The Astros have been successful finding diamonds in the rough before. A look back at the 2020 draft and the diamonds are going to be all over the place, specifically since the draft was only 5 rounds. This meant a lot of prospects went undrafted. The Astros were able to acquire one prospect, Justin Dirden, after the draft and he is proving himself this season.
Things haven't always been smooth for Justin though. The left handed hitter attended Southeast Missouri State and had a breakout year as a sophomore hitting .340 with 16 HR, 68 RBI in 57 games. The next season could have been a big one, but Justin suffered an injury. "I had an avulsion fracture in my thumb that caused me to miss the season," Dirden said. Due to this injury, he pretty much had to return to school to rebuild his draft stock.
Dirden started his senior season and played in 17 games, slashing .414/.474/.900 with 9 HR, 26 RBI, before the season was canceled due to the COVID pandemic. I asked Dirden about how the cancelled season played into his draft stock and he said "I think it may have hurt it a little. Of course the shortened time doesn't allow scouts to see if you can consistently put up those numbers but either way still received an opportunity and thankful for that."
The 2020 draft rolled around and as mentioned above, it was only 5 rounds compared to the normal 40 rounds. This caused plenty of good prospects to go undrafted. I asked Justin about his potential draft round if it was a normal draft and he said "Most of the info I was getting was that more than likely I was going to be a NDFA due to age and things like that but in a full draft unofficially heard anywhere from 9-20."
While not ideal for a prospect to go undrafted it may be a blessing in disguise. This allowed prospects to choose which organizations they played with. "All I needed was one to give me a shot and let me sink or swim and the Astros were happy to extend that offer to me," Dirden said about landing with the Astros.
Since there was no minor league season in 2020, Dirden never saw the field. His first game action game in 2021 and he made an immediate impact in the system. The outfielder split time between Low-A and High-A and slashed .274/.397/.537 with 18 2B, 16 HR, 58 RBI, 10 SB in 83 games. He had a good quote about his success in 2021 "Trying to stay even keeled not letting the highs get too high and the lows get to low allowed me to stay loose and just play no matter the outcome."
Justin Dirden was signed as an undrafted free agent following the 2020 draft. He put together a great 2021 where he slashed .275/.398/.539 with 18 2B, 15 HR, 10 SB. He showed power to all fields too. #Astros pic.twitter.com/LPAddikDxy

— Astros Future (@AstrosFuture) October 11, 2021
This season, Dirden has gotten off to a hot start. Through 35 games, Dirden is slashing .315/.389/.546 with 15 2B, 5 HR, 28 RBI. I asked Dirden what he worked on in the off-season and he said "I worked a lot with Mr. Rojas in the off-season developing a little more rhythm in my swing to help with timing. We keep it pretty simple noting too special."
Dirden, despite his size at 6'3″ and 210 lbs, has played the majority of his games in center field. "As I play more and more centerfield I find that position to be the most comfortable for me. You get a better view of the zone and where the pitch is located, how the batter is swinging etc. which I think allows me to make a better read on the ball," Dirden said. Adding the ability to play center field just helps his stock in the system.
His speed is one asset that is underrated and that allows him to play all over the outfield. Justin said his speed was his biggest strength on the field because it allows him to effect the game in multiple ways. "It plays on both sides of the ball offensively and defensively, helping me track down fly balls and stretching that single into a double or scoring from first on a ball in the gap." Dirden said.
The 24 year old outfielder is off to a really good start, proving that he is a legitimate prospect. We have seen with the Astros over and over, it doesn't matter where you come from, if you can play, you can play. From an undrafted free agent to raking in Double-A, Dirden is making noise in the system and showing his worth in 2022.
Get all your favorites Astros gear here: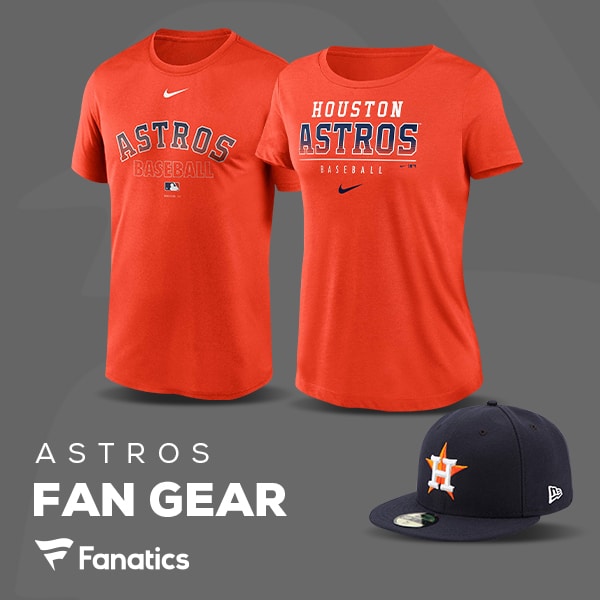 Be sure to follow on Twitter, @AstrosFuture, follow me on Instagram, @AstrosFuture and like my Facebook page, facebook.com/AstrosFuture.