Astros Future Interview: Peter Solomon
The Astros system is loaded with talent but the 2017 draft is shaping up to be a great one for the Astros. Not only are the top picks looking good, but the mid-round guys are looking great too. One of the middle rounders that is pitching well is Peter Solomon.
Solomon attended Mount St. Joseph's HS in Baltimore, MD. He was actually drafted out of high school by the Padres in the 21st round but opted to not sign and attend the University of Notre Dame. With Notre Dame he spent time starting and pitching out of the pen posting a 3.53 ERA with 151 K in 130.1 innings in his NCAA career. The Astros drafted Solomon in the 4th round of the 2017 and he has been great since joining the Astros system.
He pitched in just one game following the draft in 2017 but put together a phenomenal 2018 season. Solomon started the year with the Quad Cities River Bandits and went 8-1 with a 2.43 ERA and 88 K in 77.2 innings. He earned a promotion to Buies Creek where he finished off the season with a 1.96 ERA and 4 BB/26 K in 23 innings.
2018 Season Stats: 24 G, 9-1, 2.32 ERA (2.40 FIP), 100.2 IP, 78 H, 26 ER, 32 BB, 114 K, 10.2 K/9, 20.4 K-BB%
I was fortunate enough to be able to ask Peter some questions about his background and how his season went. Let's get to the interview.
Astros Future (AF): Can you describe the day were you drafted? How did you find out you were selected by the Astros?
Peter Solomon (PS): "The day I was drafted I was at home with my parents and best friend.  Watching along on TV with the draft tracker.  I wasn't sure who I would be drafted by or when, just hoping to see my name pop up.  I got a call from my advisor telling me the Astros were going to take me with their next pick so that is when I officially found out.  It was an unreal feeling knowing that I was going to be paid to play a game that I have loved since I was 5 years old.  Getting calls and texts from family and friends that have supported me throughout the years, it was a day that I will remember forever."
AF: You were drafted by the Padres out of high school. What led to you decision to attend college instead?
PS: "I was born a Notre Dame fan.  My family, especially my dad, were huge Notre Dame fans so by default the Irish were my team too.  I was raised to value both academics and athletics, so going to college was very important to me.  Once I received an offer from Notre Dame I knew that's where I was going to go, and it would be extremely difficult to change that.  I'm thankful the Padres drafted me knowing school was the likely path.  The opportunity I had at Notre Dame was too much for me to pass up on knowing that after I would hopefully have the chance to still pursue professional baseball."
AF: What baseball team did you grow up rooting for?
PS: "Growing up between DC and Baltimore I had a choice between the two, but I would say I was a casual fan of the Orioles.  During my childhood unfortunately they didn't always have the best years but they had some amazing players like Cal Ripken Jr.  I would say an Orioles fan but nothing too serious."
AF: Is there a certain pitcher you try to model yourself after?
PS: "I really enjoy watching Justin Verlander.  We have some similarities in our deliveries and I think a similar game plan on the mound.  The way he attacks hitters and uses all of his arsenal is definitely something that I strive for.  I believe he is the complete pitcher in terms of arsenal and mental game, so I want to model myself after one of the best."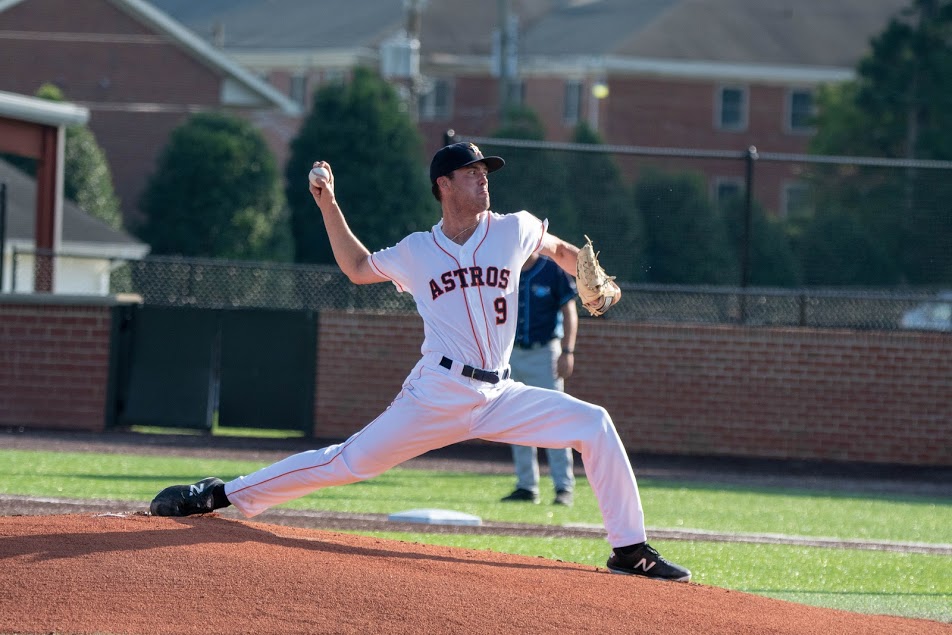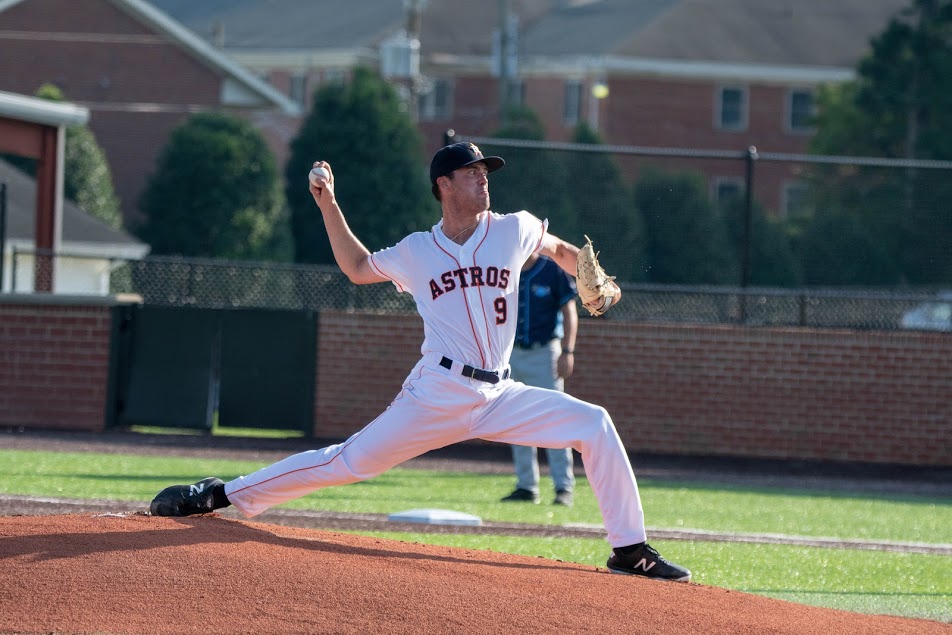 AF: What do you feel you improved the most since being drafted by the Astros?
PS: "I would say the area I improved most was being more consistent in my delivery on the mound and throwing more quality strikes.  At times in college I got away from my delivery on the mound which caused me to walk more guys than I would have liked, so being more consistent each time on the mound was a big win for me this year."
AF: What are your plans for the off-season?
PS: "This offseason I am taking classes back at Notre Dame while training.  I have some credits left since I left after my Junior year and so I'm planning on getting closer to graduating while also preparing myself to be my best next season."
AF: Everyone knows the Astros love analytics (spin rate, exit velocity, pitch tunneling). How have you been able to use this to help you on the mound?
PS: "What helped me the most with the Astros was just learning how to better use my arsenal.  Really taking a step back and understanding what pitches I have, what the hitter is expecting from me and what is my best bet at getting them out.  They have done a really good job at making me more conscious about my delivery and my pitches so I know when something is off or when I need to change how I am using a pitch during the game."
AF: Can you describe your repertoire and what do you think is your best pitch?
PS: "I throw a 4-Seam Fastball, Changeup, Curveball, Slider and am tinkering with a Cutter.  Every pitch plays off my fastball, 4-seam pretty straight with good spin behind it.  Changeup is a pitch that I am most proud of improving this year being more confident throwing with good fade from lefties.  Curveball is close to a 12-6 going almost straight down and I would call my slider more of a "slurve" that can be thrown pretty hard.  For me I think my best pitch is my fastball.  Everything plays off the fastball so the hitter has to respect it and know that you aren't afraid to throw it to them to get it by them."
AF: You helped the River Bandits set the Midwest League records in strikeouts. What was it like being on a staff that was striking guys out at a rate like that?
PS: "It was awesome being surrounded by guys that continually built off one another.  You would see a guy go out and punch out 7 or 8 guys in 5 innings, and have someone come in from the pen and pick up right where they left off.  Building off one another elevated all of our games, seeing how we could get different hitters out and what played better to one guy than another was a huge advantage.  I think it also gave a lot of confidence to everyone, knowing that your teammate was being successful gave you the confidence you could do the same.  But none of it would've been possible without the guys behind the dish, especially Michael Papierski.  Having someone back there that knows the game well and calls a good game is something that is a huge advantage to have on your side."
AF: Did you set any goals for the 2018 season and did you hit those goals?
PS: "I did set some goals for myself, and I did hit some of them.  From on the field stat stuff to things that are unmeasured, overall I thought I had a good year with lots of room for improvement."
AF: What is one thing Astros fans should know about you?
PS: "That I love The Office.  Sometimes I will tweet out random Office quotes with absolutely zero context.  The show makes me laugh and I think it has some of the most unreal quotes so I like to put them out there."
Thanks to Peter for taking the time to answer some questions. 2018 was a great year for him and I'm excited to see how he builds on it in 2019!
Be sure to subscribe to receive weekly updates on the Astros minor league system. Also be sure to follow on Twitter, @AstrosFuture, and like my Facebook page, facebook.com/AstrosFuture.
**Photo Credit: SR Photography**