Astros Future Interview: Josh Rojas
The Astros have had success finding diamonds in the rough late in the draft and the 2017 draft looks to be no different with the selection of Josh Rojas.
Rojas grew up in Arizona and initially attended Paradise Valley Community College in Phoenix, Arizona before transferring to the University of Hawaii. He played two years in Hawaii before being selected by the Astros in the 26th round of the 2017 draft.
Rojas was assigned to Quad Cities following the draft where he showed a nice uptick in power with a .231 ISO and finished with 10 HR and a 116 wRC+. He did play in four AAA games as well. So far in 2018 Rojas is off to a great start. Through 24 High-A games, Rojas is hitting .311 with .921 OPS. He has phenomenal walk (14.3 BB%) and strikeout (12.4 K%) rates to go along with his 162 wRC+. He has also showed some speed on the basepaths with a perfect 12-for-12 in steals. He was promoted to Double-A yesterday and made his debut going 1-for-3 with a run scored and a walk.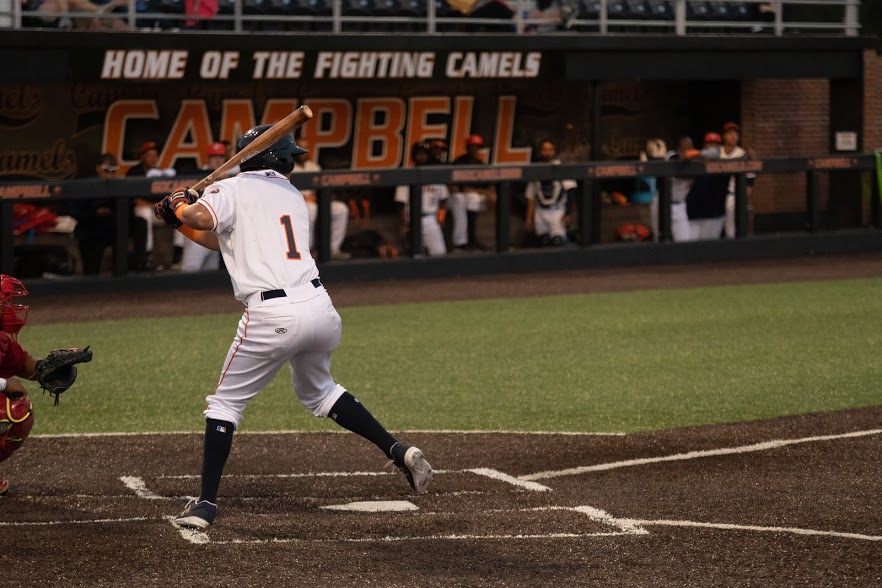 Josh was able to take some time out of his schedule to answer some questions so we could get to know him and his journey a bit better. You can follow him on Twitter here: @JoshRojass. Let's get to the interview.
Astros Future (AF): Can you describe the day were you drafted? How did you find out you were selected by the Astros?
Josh Rojas (JR): "So after attending a pre draft workout for the Astros, I never really heard anything from them again. So when it came to draft day I tried not to pay attention to it. I didn't want to be there looking at every pick hoping it's me so I was just laying in bed watching TV. My mom actually called me first, and told me she just saw my name come up on the draft ticker. As I was on the phone with her my dad called and said the same thing. During that call the Astros called me and notified me that they had just selected me in the 26th round."
AF: What baseball team did you grow up rooting for?
JR: "Being from Arizona I followed the Dbacks success, but it was never like a favorite team kind of thing. I enjoy watching so many players play that it's hard for me to just root for one team."
AF: Is there a certain player you try to model yourself after?
JR: "I don't directly try to model myself as any one player, but I do have some favorite players that do some things I like. If I had to choose one though I'd say Javy Baez. The reason I say this is because he plays hard and his baseball IQ is very high, especially on the bases. I love the way he plays and I try to play the same way."
AF: I saw that you first attended community college in Arizona before attending Hawaii. How did you end up at the University of Hawaii and what was that experience like?
JR: "I went to Paradise Valley community college for two years. After my freshman year there I made the sophomore all-star game. It's an all-star game with all the sophomores in the ACCAC that takes place right before the spring season. I played in that and did well. One of the Hawaii coaches was there and contacted me. They flew me out on a visit a week or so later and I loved it. Loved Hawaii obviously, but one I loved even more was that the people in Hawaii were so passionate about there baseball. The crowds were big and loud, every school that came in to play us would comment on how crazy our fans were, and I loved that. The Hawaiian fans pushed us to want to play harder. I loved it there."
AF: How has the adjustment between college ball and professional baseball been for you?
JR: "I couldn't say enough about the Astros organization when it comes to player development. I learned so much more about baseball in my first half season with the Astros than I learned in 4 years of college baseball. I couldn't imagine having the success I'm having right now if I was in another organization. I'm still continuing to learn everyday. Everyday I show up to the field I learn something, whether it has to do with my swing, pitch selection, defensive position, base running, etc.. I really believe we have the best organization in baseball."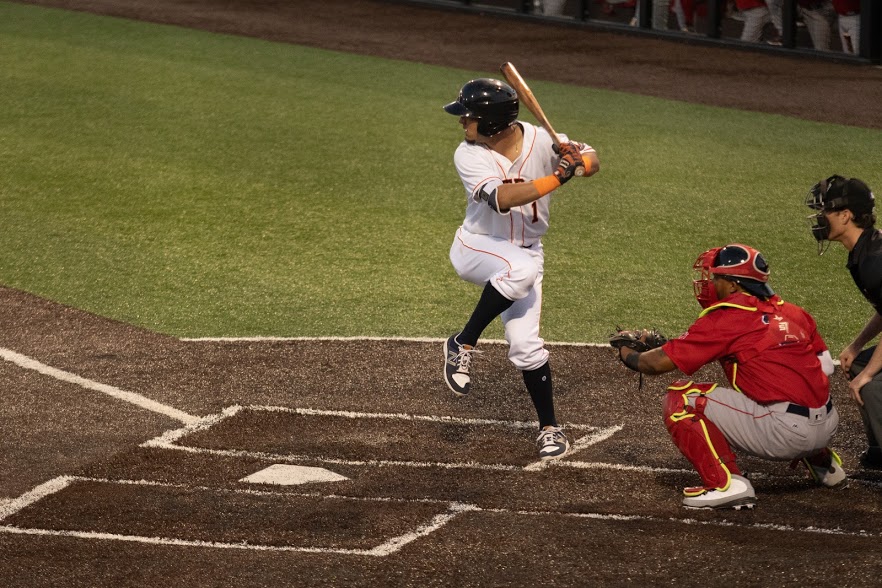 AF: Your walk and strikeout rates this year are comparable to your senior year at Hawaii but following the draft last year you showed an increase in homerun power. Were you doing anything different with Quad Cities after the draft?
JR: "I think the biggest difference from Hawaii to Quads was that I really learned the strengths of my swing and I also started to learn about pitch selection for really the first time. I had always just been a free swinger. One of my weaknesses was that I could put pitches in a lot of different locations in play. So after learning how my swing was working, and what pitches I could hit best I was able to drive the ball better."
AF: Did you work on anything specific this last off-season?
JR: "I worked very hard on improving my overall strength, agility, speed and flexibility. I worked out at a facility called Exos 5 days a week in Arizona, they do an unbelievable job at getting us ready for the baseball season."
AF: What are your goals for the 2018 season?
JR: "So I actually only set one goal this season and that is to keep pace with Myles Straw in steals. Me and him are friends, and I told him this at the beginning of the season and he laughed at me. But that's one of those goals that you set maybe a tad bit out of your range to make you really push yourself. Other than that goal, my goal every season is pretty much always the same. Compete as hard as I can, and never give at-bats away."
AF: Everyone know the Astros love analytics. Have you been able to use any of analytics and new technology to help you on the field?
JR: "Like I said before, the Astros are the best in baseball when it comes to getting their players better. This year was my first spring training and the amount of feedback we get using technology is amazing, I was actually in awe at the amount of information we have available to us."
AF: So far this year you have played 1B, 2B, 3B, SS and LF. Which position do you prefer and which one do you feel most comfortable at?
JR: "I really enjoy showing up to the ballpark and being in a new position each day. If I played a different position everyday that would be best case scenario for me. I don't know why, but I feels kind of refreshing being a 2nd baseman one day, in LF the next day, and then 1st base after that. It's fun, I like it. I'm comfortable with all of them, and hope to play every position by the end of the season, besides pitcher and catcher. I don't belong in those spots."
AF: You have stolen 12 bases this year in 24 games compared to 0 last year in 56 games. What has led to the increase?
JR: "I'd say the two biggest reason for my increase in steals is confidence and data. This year my confidence in getting bags is really high because of our manager Morgan Ensberg. He really pushes us to compete hard and likes our mistakes to be made being aggressive. I love being aggressive on the bases so the fact that he wants that from us is all it took for me to gain the confidence to get moving. The other big thing was data. In spring training we went over baserunning a lot. We basically learned that we as an organization aren't getting picked off enough. Weird right? But this was because we were being to careful with our leads, and this distance that we are losing with our leads can cause us to be out on bang bang plays both with steals and first to thirds. So in spring training I worked on a bigger lead. It took a little bit before I could steal from there because you're so worried about getting picked, but I figured it out."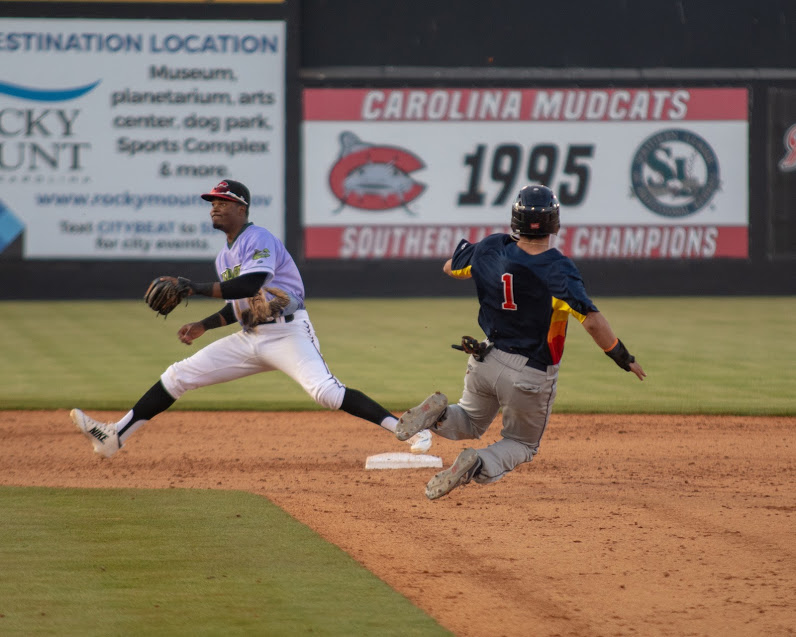 AF: What is one thing Astros fans should know about you?
JR: "I think the fans should no that I'm a competitor. I love the game of baseball and I love to compete. Everyday I show up to the facility I want to give my very best to contribute to a win."
AF: Thank you again for your time and good luck the rest of the season.
Be sure to subscribe to receive weekly updates on the Astros minor league system. Also be sure to follow on Twitter, @AstrosFuture, and like my Facebook page, facebook.com/AstrosFuture.
**Photo Credit: Joe Dwyer/Photography**