2017 Fresno Grizzlies Season In Review
The Fresno Grizzlies defended their AAA Championship title in 2017, and while they didn't repeat, they still turned in anothe good season.
2017 Record: 77-65
After winning the AAA championship in 2016, the Grizzlies started the 2017 season slow going 10-14 in April. They followed that up with a 13-16 May digging themselves a deep hole. They picked up the pace in a big way going 20-8 in the month of June to finish the first half of the season above .500. The Grizzlies then went 22-6 in July putting themselves in a great position for a post season run. Unfortunately they struggled to close out the season going 9-20 in August and ended up missing the playoffs by 3 games.
There were several players on offense that had huge impacts. A.J. Reed was a big run producer clubbing 34 HR and driving in 104 runs. Derek Fisher was a consistent threat in the middle of the lineup hitting .318 and did a great job driving in one of the best leadoff men in AAA in Tony Kemp, who hit .329 in 118 games.
The Grizzlies saw a huge turnaround from Colin Moran from 2016 to the 2017 season. After hitting just .259 with 10 HR in 117 AAA games in 2016, Moran hit .308 with 18 HR in 79 games earning him a call-up to the Astros. Jon Kemmer and Tyler White both were consistent performers on offense posting a .932 OPS and .898 OPS, respectively. Even Preston Tucker chipped in with 24 HR and 96 RBI, though he hit just .250.
The pitching staff was the weak point of the team in 2017. Armenteros was great in his 10 starts after being promoted from Corpus (more below). The other starters struggled quite a bit but the Grizzlies did get some very good relief performances. Kevin Comer posted a 3.68 ERA with 74 K in 63.2 innings and Jacob Dorris had a 1.87 ERA with 28 K in 33.2 innings. Here are the team leaders for 2017:
TEAM LEADERS
Hits – Tony Kemp (166)
Doubles – Derek Fisher (26)
Triples – Tony Kemp (9)
Home Runs – A.J. Reed (34)
Runs Batted In – A.J. Reed (104)
Average – Tony Kemp (.329)
Stolen Bases – Tony Kemp (24)
Innings Pitched – David Martinez (136.1)
Wins – Trent Thornton/Rogelio Armenteros (8)
Saves – Jordan Jankowski (11)
Strikeouts – David Martinez (101)
Earned Run Average – Rogelio Armenteros (2.16) (minimum 50 IP)
NOTABLES
A.J. Reed, OF
Reed flew up the prospect rankings after a monster 2015 season. Unfortunately, he fell off a bit after a struggle in the majors last season. In 2017 he started slow but finished with 34 HR, 104 RBI including hitting .293 with 19 HR, 52 RBI in 46 games after the AAA All-Star game.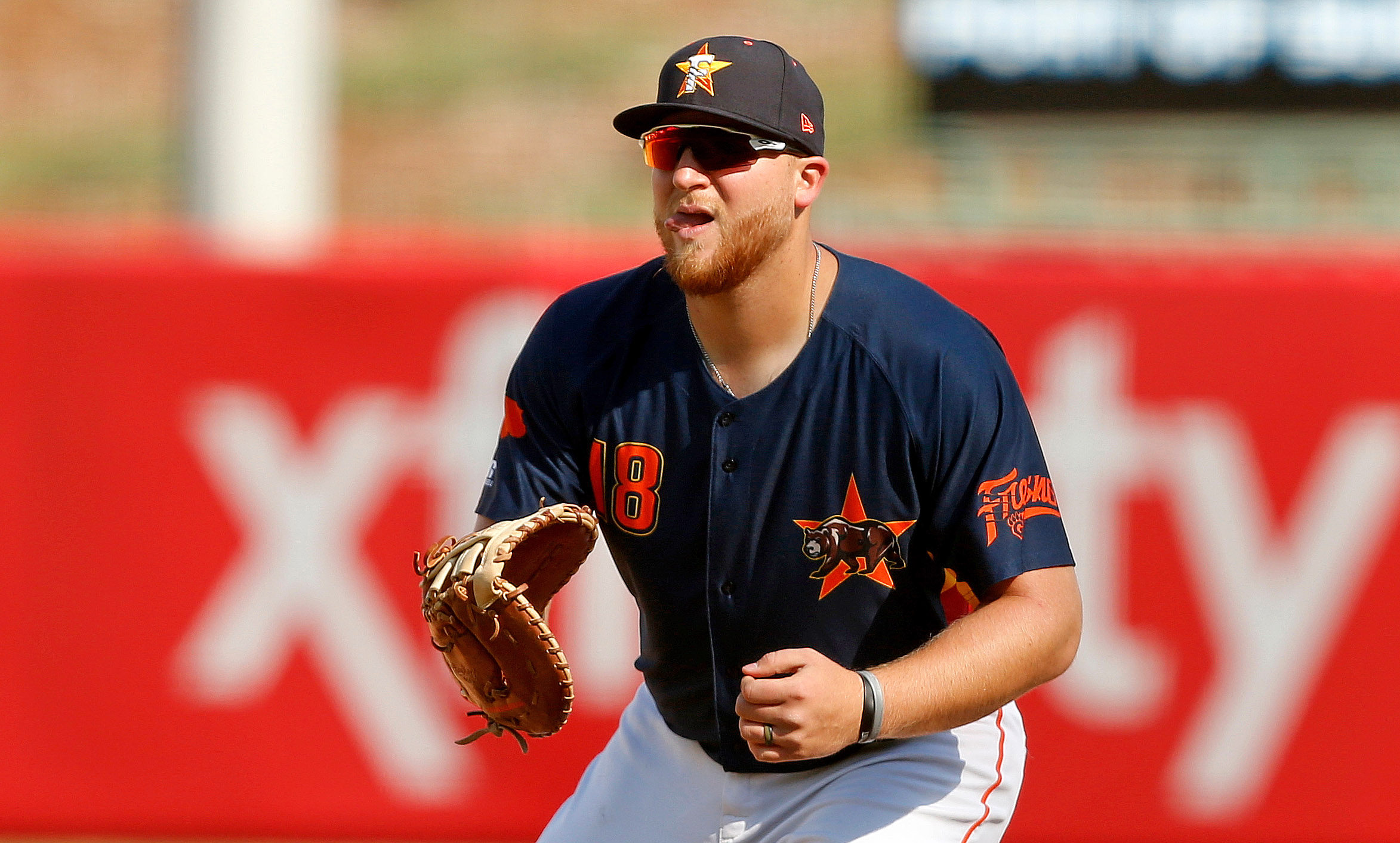 Rogelio Armenteros, RHP
Armenteros was great with Corpus posting a 1.93 ERA with 19 BB/74 K in 65.1 innings. He was promoted to AAA where he dominated PCL hitters going 8-1 in 10 starts with a 2.16 ERA and 72 K in 58.1 innings.
Derek Fisher, OF
Fisher continued his prospect rise in 2017 putting together a great season for Fresno before being promoted to Houston. In 84 games in AAA Fisher hit .318 with 26 2B, 21 HR, 66 RBI and 16 SB. He was promoted to Houston and helped contribute to the playoff run.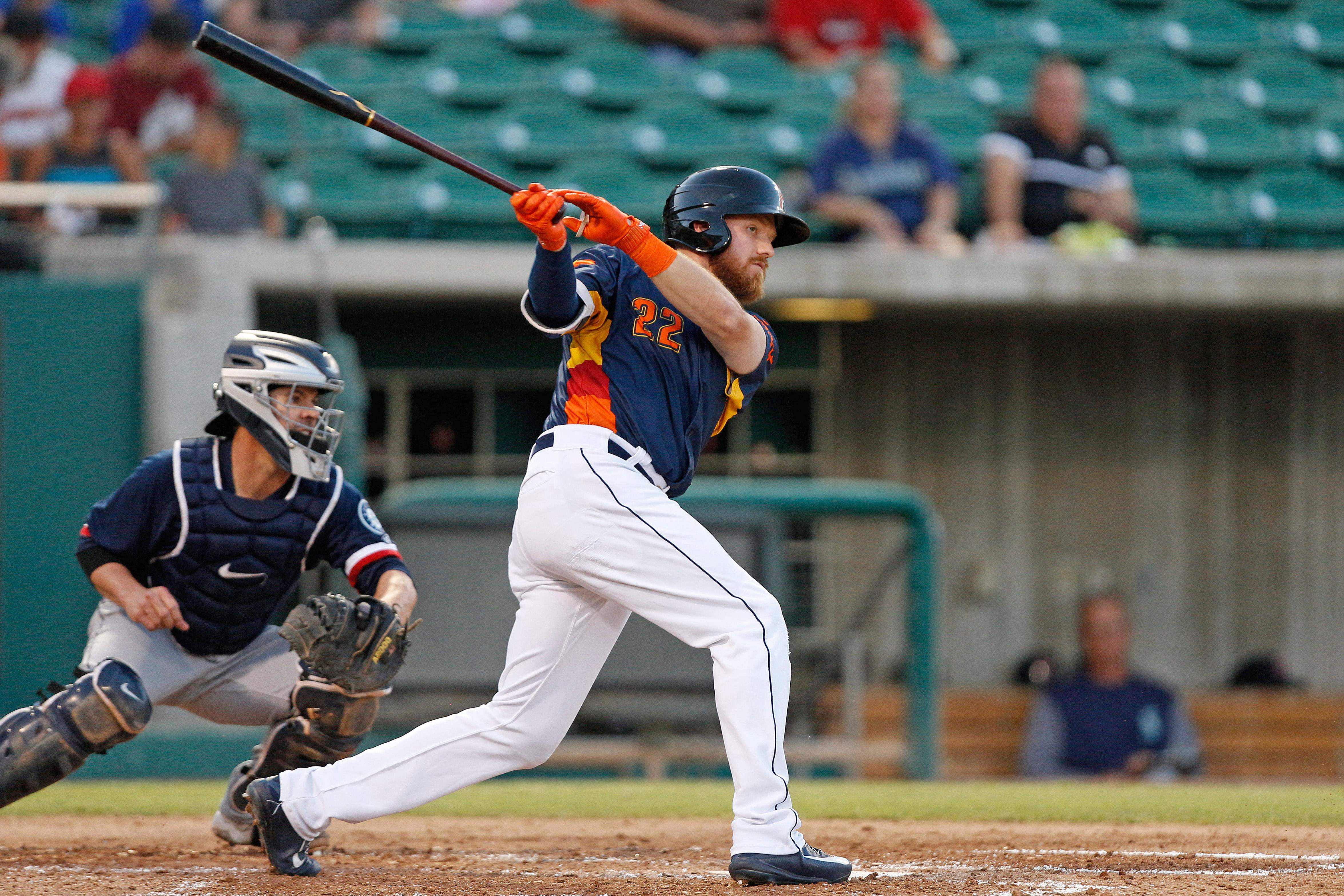 Tony Kemp, 2B
All Kemp does is hit, and he continued that in 2017. Though he was repeating AAA, he made it look easy hitting .329 with a .845 OPS. He also had a career high in HR with 10 and slugged 23 doubles with an exceptional 35 BB/43 K ratio in 118 games.
Be sure to subscribe to receive weekly updates on the Astros minor league system. Also be sure to follow on Twitter, @AstrosFuture, and like my Facebook page, facebook.com/AstrosFuture.
**Photo Credit: Kiel Maddox/Fresno Grizzlies**