Astros Future Interview: Eric Peterson
A while back I wrote an article about a couple relievers, flying under the radar, and moving through the Astros' system. There is another reliever we can add to that list and that is the Astros 37th round pick in 2014, Eric Peterson.
As stated above, Peterson was selected by the Astros in the 37th round of the 2014 MLB draft out of the North Carolina State. Peterson started his college career with Temple and had a solid sophomore seasons posting a 3.03 ERA over 74.1 innings. He transferred to North Carolina State for his junior year and went 4-4 with a 3.21 ERA in relief.
Since joining the Astros system he has pitched very well in relief. Following the draft he pitched with Greeneville posting a 2.35 ERA (1.83 FIP) with 32 K in 23 IP. In 2015 with Quad Cities, he had a 2.59 ERA with 75 K in 62.2 IP.
This season Peterson started in Lancaster and posted a 4.34 ERA, though a 2.19 FIP, with 22 K in 19 IP. He was promoted to Corpus Christ where he had a 3.69 ERA (2.77 FIP) with 55 K in 53.2 IP. His minor league career line looks like this:
14-7, 3.13 ERA, 158.1 IP, 149 H, 42 BB, 184 K, 10.5 K/9
Eric was able to take some time to answer some questions for me here. Let's get to the interview!
Astros Future (AF): Can you describe the feeling of being drafted by the Astros?
Eric Peterson (EP): "It was an awesome moment. I was hanging out with my family that day before one of my collegiate summer ball games and when I saw my name it was a great feeling. My brother was drafted earlier that day and sharing that experience with him and everyone else is something I will never forget. Not many people get to have the experience of getting selected in the MLB draft the same day as their twin brother!"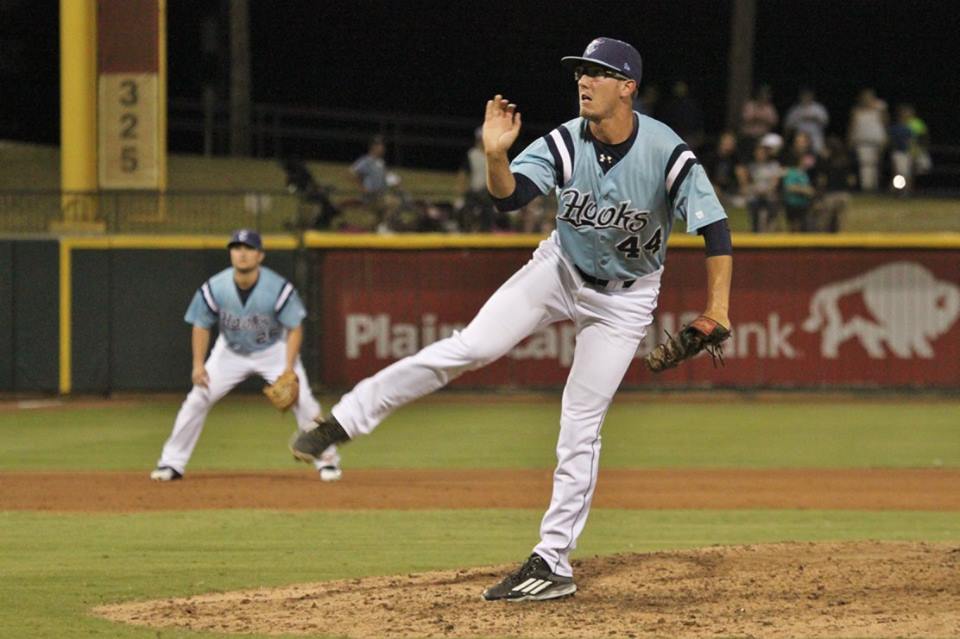 AF: You transferred from Temple to North Carolina State after your sophomore season. What led to this decision?
EP: "At the end of fall semester my junior year at Temple, the Athletic Director had a meeting with all of the student-athletes the day before finals to tell us they were cutting six sports after the upcoming season. It was a tough moment because none of us knew what our next step was in our career. I decided to contact North Carolina State and they were open to having me play there and enroll next semester that started three weeks later. It was an opportunity I couldn't pass up and it was the best decision I could have made."
AF: How has the adjustment been between college ball and professional baseball?
EP: "There has been small adjustments here and there but the transition has been pretty smooth. The speed of the game has picked up a little bit as the level of competition has gotten better. The biggest thing off the field is taking care of my body with the long road trips and making sure I'm prepared and ready to play every single night."
AF: Throughout your MiLB career you have been strictly a reliever. Do you think this allows your stuff to "play up"?
EP: "Not really. I started a lot in college so I think that has prepared me a lot when I have the longer outings coming in as a reliever. I've prepared myself to be ready to go out for one inning or even as long as four innings."
AF: Do you prefer to pitch out of the bullpen?
EP: "I love pitching out of the bullpen between the 7th and 9th inning with the game on the line. Going out there and stranding RISP or coming in for the save are the moments I want to compete in. Pitching in the playoffs for Corpus Christi this year and coming in during a tied ball game to compete for a championship is what every reliever wants to play for."
AF: Can you describe your pitching style? Are there any pitchers you try to model yourself after?
EP: "I have a very quick tempo and work fast while I'm out there. Once I get the ball back, I want to get to the next pitch. In terms of mechanics, I have a long arm action when I'm pitching. I take a lot of pride in working ahead and making sure I compete every at-bat. There isn't a worse feeling than walking someone on four pitches and feeling as though you let them off the hook."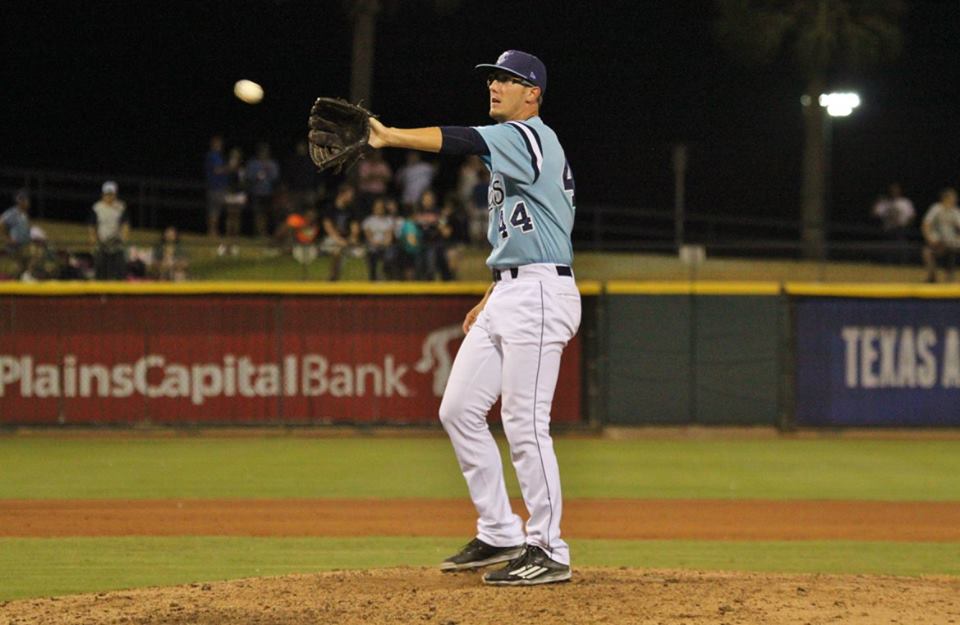 AF: Can you describe your pitching repertoire?
EP: "I throw a 4-seam fastball, curveball, slider and changeup. When I get ahead of guys, I like to go to my slider or an elevated fastball."
AF: What do you feel has led to your success so far, particularly the strikeouts (184 K in 158.1 MiLB innings)?
EP: "I think I have made the adjustments I've needed to make in order to succeed at every level. All of the pitching coaches I've had have made it clear what certain aspects of pitching I need to work on to get better. Elevating the fastball with two strikes has been huge for me since last year in Quad Cities, and moving up to Lancaster and Corpus Christi. This past year I added a slider to my pitching repertoire and it helped me a lot going down the stretch as a put away pitch. I am at the point in my career where I know how I want to attack hitters with every pitch I have and what each pitch is capable of doing."
AF: If you weren't playing baseball what would you be doing?
EP: "I would be going back to school at North Carolina State University to finish my degree. I majored in Kinesiology (Exercise and Sports Science) my first two years at Temple and majored in Sport Management at NCSU. So I feel as though my options are open as to what I want to do after I graduate."
AF: What is one thing the Astros fans should know about you?
EP: "I have a twin brother, Patrick, that also plays professional baseball. Everyone thinks we are identical twins because we look so much alike, but we're actually fraternal twins. Some teammates have even said our pitching motion is exactly the same too, but he throws from the left side. Growing up, both of us have always loved baseball and we competed in literally everything we did. One of us always wanted to have bragging rights about something."
Thanks again to Eric Peterson for taking the time to answer some questions. Enjoy the rest of the off-season!
Be sure to subscribe to receive weekly updates on the Astros minor league system. Also be sure to follow on Twitter, @AstrosFuture, and like my Facebook page, facebook.com/AstrosFuture.
**Photo Credit: Tammy Tucker**