Important Off-Season for Astros Prospect Derek Fisher
The term "important off-season" can be said for every athlete that has played a professional sport. The off-season allows the athlete to prepare mentally and physically for the upcoming season so they can perform at the best of their abilities. With that said, I truly believe this off-season is important for Derek Fisher and I will tell you why
Going into the 2016 MLB season the Astros appeared to have their outfield set with Colby Rasmus, Carlos Gomez, and George Springer.  We know Springer was under club control but with good seasons from Rasmus and Gomez maybe they would be extended or at least offered a qualifying offer. Fast forward six months; Gomez is no longer with the Astros and Rasmus finished a bad 2016 season injured.
Right now the only guarantee for the outfield for 2017 is George Springer. Sure, Jake Marisnick has provided great defense in center field but he really struggled with the bat posting a 58 wRC+ and a 26.7% stikeout rate in 2016. Teoscar Hernandez and Tony Kemp showed some promise but I'm not sure if either can be penciled in as a starter next season. This is where Derek Fisher comes into the mix.
Possibly the highest rate Astros outfield prospect, Fisher was drafted by the Astros in the first round (supplemental) of the 2014 draft. At the time of the draft he was seen as one of the higher potential picks due to his power speed combo. Since joining the Astros system he has shown that off. In his first full minor league season, 2015, he hit .275 with 22 HR, 31 SB over 123 games between Quad Cities and Lancaster.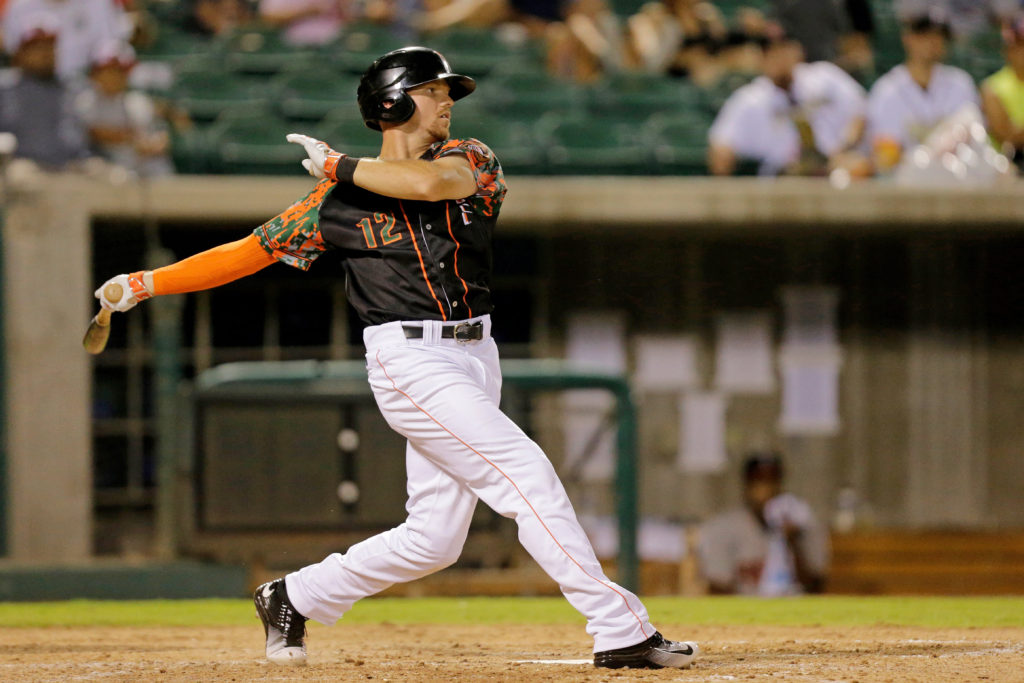 Fisher started the 2016 season with Corpus Christi and played very well in the first half hitting .274 with a .398 OBP and 13 HR, 18 SB in 70 games. He ran into some struggles in the second half of the AA season hitting just .190 in 32 games. The Astros promoted him to AAA Fresno and he picked it back up hitting .290 with 5 HR, 17 RBI in 27 AAA games. All in all, he hit 21 HR and stole 28 bases showing off the power/speed potential.
As stated above, the Astros only have one guaranteed starter in the outfield for 2017. They make look to free agency, they may look at trades, or they could use options from within. If Fisher puts together a good off-season and a good showing in spring training, he could be on the list to be one of the outfielders next season. It's possible they start Fisher back in AAA but we have seen, especially recently, the Astros aren't afraid to promote and play prospects even while contending.
Fisher will be in his age 23 season next year, same as Alex Bregman and Joe Musgrove. Fisher has the pop you would want in a corner outfielder, plays all three outfield positions, and steals bases. He has a little swing and miss in his game but has posted exceptional walk rates throughout his MiLB career. The hope at this point would be for Fisher to be a .250 hitter with 20 HR, 20 SB and a high OBP at the major league level. If he can provide that for the Astros, he will lock down one of the open outfield spots.
Be sure to subscribe to receive weekly updates on the Astros minor league system. Also be sure to follow on Twitter, @AstrosFuture, and like my Facebook page, facebook.com/AstrosFuture.
**Photo Credit: Kiel Maddox/Fresno Grizzlies**