Astros Free Agency Outlook
With the season over, it is now time to look towards 2017. The Astros have set themselves up well with a lot of young players under contract for many years to come but there are still many holes left on the team that will need to be filled to help propel this team to a World Series run.
Roster Locks – These players will be on the team barring trade or unforeseen circumstances
2B- Jose Altuve
SS- Carlos Correa
3B- Alex Bregman
1B/3B/DH- Yulieski Gurriel
RF- George Springer
C/DH- Evan Gattis
OF- Jake Marisnick
UTIL- Marwin Gonzalez
SP- Dallas Keuchel
SP- Lance McCullers
SP- Collin McHugh
SP- Joseph Musgrove
SP/RP- Chris Devenski
RP- Ken Giles
RP- Michael Feliz
RP- Luke Gregerson
RP- Will Harris
Roster Bubble – These players may either make the team, in the Astros minor league system or released
RP- Tony Sipp
RP- Kevin Chapman
SP- Mike Fiers
RP- Jandel Gustave
RP- James Hoyt
OF- Teoscar Hernandez
OF- Tony Kemp
RP- Pat Neshek
SP/RP- David Paulino
SP- Brad Peacock
3B- Colin Moran
1B- A.J. Reed
SP- Brady Rodgers
OF- Preston Tucker
1B- Tyler White
C- Max Stassi
Impending Free Agents – I do not believe any of these players will be resigned
OF- Colby Rasmus
C- Jason Castro
1B/3B- Luis Valbuena
SP- Doug Fister
While the Astros are deep, they still have remaining holes in the outfield, catcher, left handed reliever and especially in the rotation.
Possible Free Agent Options
Outfield
May be the biggest hole the Astros have. After whiffing (literally) with Rasmus and Gomez, the Astros could really use a boost to their 2017 Outfield. While they currently have numerous in house options, with Kemp, Tucker, Hernandez, Marisnick and even Gurriel, the Astros could really use another solid major league hitter to help balance out a top heavy lineup.
Josh Reddick – Reddick is a left handed outfielder currently playing for the Dodgers after spending most of the year with Oakland.  Reddick has been an above average hitter for his major league career, currently batting .279/.344/.379 between Oakland and LA. He is an above average fielder, winning a gold glove in 2012, and would be an excellent fit for the Astros in Left Field. Reddick would give the Astros a much needed left handed bat in a lineup dominated by righties. The outfielder would provide a steady veteran presence in a lineup that is in need of some consistency.
Ian Desmond – Making a division rival weaker while improving as a team is a win win for the Astros. Desmond, a converted shortstop, has performed admirably in centerfield for the Rangers while having one of his best years at the plate. Currently slashing .287/.338/.456, Desmond is having a career resurgence after a down year with the nationals. Currently on a 1 year/8 Million dollar deal, Desmond is sure to cash in on a lucrative long term deal this winter. Desmond could patrol centerfield or left for the Astros and would add even more power to the lineup. The only downside to bringing Desmond in, besides what is sure to be a very large contract, is that he would be another right handed bat in an already right hand dominant lineup. He also has a high strikeout rate which could be a mistake to add yet another bat with a high propensity to swing and miss.
Carlos Beltran – Now hear me out before you start booing. The Astros were interested in Beltran at the trade deadline before ultimately going to the South Oklahoma Rangers. Beltran has been a steady hitter throughout his major league career and while he is getting older, he will be 40 at the start of next year, he remains a solid hitter. Beltran would be able to play Left field with Minute Maid Parks short porch, as well as split time at DH to help keep him fresh while still having his bat in the lineup. Beltran had a great year at the plate, splitting time with the Rangers and Yankees, and batting .299/.340/.519 to go along with 28 home runs. Astros fans will always remember his incredible post season run, and while they may not have forgiven him yet for leaving (Thank Uncle Drayton for that) this could be a perfect reunion.
Other Options: Jon Jay, Brandon Moss, Angel Pagan, Michael Saunders
Catcher
With longtime starter Jason Castro entering free agency this year, the only current Catchers on the 40 man roster are Evan Gattis and Max Stassi. While El Oso Blanco offers a big bat, his catching leaves much to be desired. Although Gattis provides steady power in the Astros lineup, the Astros would be wise to look for someone who can also offer a steady glove behind the plate. Stassi is currently unproven and  may not be someone who the Astros can depend on as a long term option. (Edit: this part was finished prior to the ACL injury)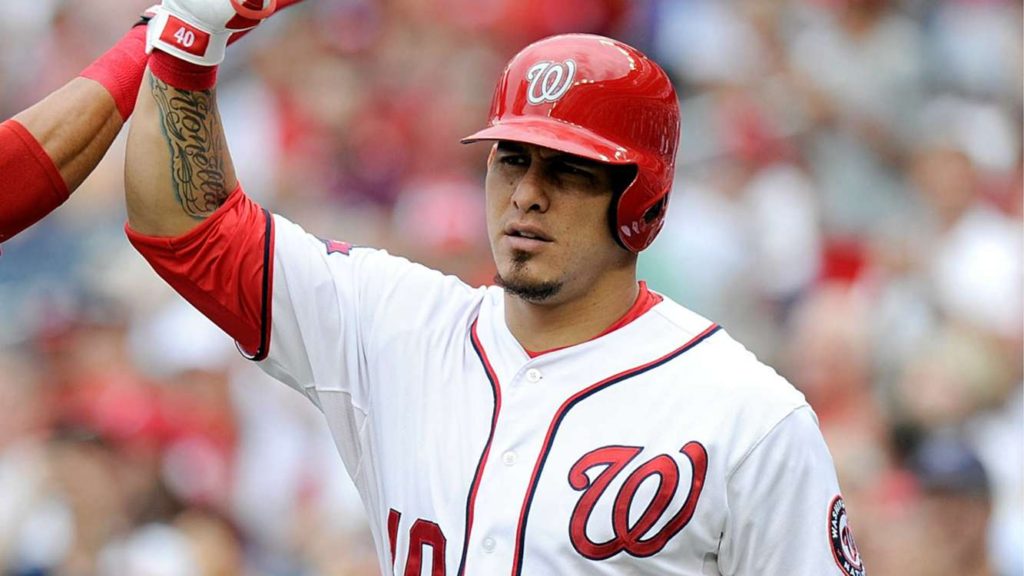 Wilson Ramos – Ramos has had a complete career resurgence in his contract year with the Washington Nationals, hitting .303/.352/.491 this year, compared to a batting line of .229/.258/.358 in 2015. While Ramos has always had a reputation as a solid defensive catcher, throwing out 38% of base runners this year, his bat has been inconsistent throughout his career. Ramos would add a steady veteran presence to a young Astros lineup as well as a solid defensive catcher to pair with the defensive challenged Evan Gattis. The only problem with adding Ramos would be the contract, seeing as this is a very thin free agent class and he is already at a very thin position, Ramos could get a massive contract. And while the Astros have money to spend this year, it may not be in their interest to spend big on someone who may only be a part time player who has shown inconsistency at the plate throughout his career.
A.J. Ellis – If the Astros are looking for a low cost defensive option at catcher, Ellis may be the perfect fit. While Ellis has never been a great hitting catcher, offering a career .237/.339/.350 line, he has always been a solid defender and is well known for his ability to work with a pitching staff. Ellis has been Clayton Kershaw's personal catcher and his former Dodger teammates have always remarked on his positive influence in the locker room. Ellis would be a great addition to split time with Gattis and work with the Astros young pitchers.
Other Options: Nick Hundley, Jeff Mathis, Drew Butera, Alex Avila
Left Handed Reliever
While the Astros signed Tony Sipp to a 3 year 18 million dollar deal, he has not been effective this year with his propensity of walking batters. The Astros need someone who can get lefties out consistently and may be able to find a replacement in free agency.
J.P. Howell – The former Longhorn starter has carved out a solid MLB career with a career 3.78 ERA. Howell has struggled a bit this season but had a career year in 2015 (4.20 ERA this year compared to a 1.43 ERA in 2015). One thing that Howell does well is keep the ball in the ballpark only allowing 4 long balls this season, compared to Tony Sipps 12. While Howell may be known as a "soft tosser" with a fastball topping out at 90mph, he could be an effective member of an already strong bullpen
Boone Logan – A native of San Antonio, Logan has spent the last 3 seasons with the Rockies. The big lefty has 3.63 ERA this season while only giving up 3 long balls, no small feat considering his home games are played in Coors Field. Logan has a side arm delivery making him extremely effective getting lefties out, lefties bat .247 against him in his career; he touches 95mph with his fastball and a slider that is an effective out pitch. Although Logan struggles against right handed hitters, he could be the perfect LOOGY for the Astros pen.
Other Options: Marc Rzepczynski, Javier Lopez, Brian Duensing
Starting Pitcher
The Astros are in desperate need for a front end starter to pair with young stud Lance McCullers and Dallas Keuchel who hopefully will return to his 2015 dominance. Unfortunately there aren't any front line starters available in this free agent class so a dominant starter will need to be added via trade. However, the Astros could still use veteran help in the back end of their rotation which could be added via free agency.
Edinson Volquez – The Astros and Volquez are very familiar with each other, between his HBP that broke Springer's wrist last year to his loss against the Astros in the ALDS. While Volquez is by no means a front line starter, he is a pitcher who can give quality innings at the back end of the rotation. Volquez threw 200 innings in 2015 and has 180 innings this year, which could be crucial for the Astros to help take some pressure off of their young starters.
Jeremy Hellickson – Perhaps the top starting pitcher available in free agency, this says more about the free agent class than it says about Hellickson as a pitcher.  The 2011 AL Rookie of the year, Hellickson enjoyed a solid start to his career before struggling in 2013 and 14 and being shipped off to Arizona in trade. Hellickson struggled again in his time with the Diamondbacks and was traded to Philadelphia before the start of the 2015 season. As the Phillies opening day starter, Hellickson had his best year since his sophomore season throwing 180+ innings and sporting a 3.57 ERA. As the best starter on the market, Hellickson will surely be overpaid in this thin market but with the Astros desperate need for rotation help and Hellicksons youth (29 years old); the Astros may be in the mix for the Phillies hurler.
Rich Hill – Former Cubs top prospect, Rich Hill has bounced around the league since 2008 eventually landing with the Independent league Long Island Ducks. Hill was the feel good story of September after being called up by the Red Sox and having a 1.55 ERA over 29 innings, including a complete game 2 hit shutout. This past offseason, Hill signed with the Oakland A's where he made 14 starts with a 2.25 ERA before being traded to the Dodgers at the trade deadline. Although he has battled blister problems this year, he has still made 5 starts for the Dodgers with a 1.53 ERA. Health has always been the problem with the talented Hill but when healthy, he has been a very effective starter. Hill will be searching for a longer term deal this year as this could be the last contract of his career due to age. But if Hill is willing to take another incentive laden deal, the Astros would be in the mix.
Other Options: Hisashi Iwakuma, Jered Weaver, Ivan Nova, Colby Lewis, R.A. Dickey
My Prediction
While I think the Astros will do most of their additions via trade, their system is very deep to help facilitate this; I do think they sign a few players in free agency. I believe that Josh Reddick makes the most sense for the Astros as a steady left handed bat that can fill an immediate need. While Reddick would be the most expensive Astros signing, I could also see them bringing in Carlos Beltran to help in the outfield and DH. AJ Ellis would be another solid veteran addition for the young team, while his bat may not be a big asset to his team, his defense and leadership would pair well with what the Astros would like to accomplish. As the Astros just spent 18 million to bring back Tony Sipp I don't see them cutting their losses so soon.  But if they do decide to move on, Boone Logan would be a dominant lefty in the pen. While I believe the Astros attempt to trade for a big time starter this offseason (Chris Archer, Chris Sale, Sonny Gray), I also believe they will sign someone to fill out their 4th/5th spot in the rotation. I prefer Edinson Volquez as I do not believe that his price will be astronomical but if the Astros are unable to secure a big piece to their rotation I can see them going after Jeremy Hellickson.
Potential 2017 Roster:
Lineup:
George Springer- RF
Alex Bregman- 3B
Jose Altuve- 2B
Carlos Correa- SS
Yulieski Gurriel- 1B
Carlos Beltran-DH
Josh Reddick- LF
Evan Gattis-C
Jake Marisnick- CF
Bench – Marwin Gonzalez, AJ Ellis, Teoscar Hernandez, Tony Kemp
Rotation:
Dallas Keuchel
Lance McCullers
Colin McHugh
Edinson Volquez
Joe Musgrove
Bullpen:
Chris Devenski- Long Reliever
James Hoyt
Boone Logan
Michael Feliz
Will Harris
Luke Gregerson
Ken Giles-Closer
As the off-season progresses we will take more looks into potential free agents the Astros could target this off-season as well as breakdowns by position.
Be sure to subscribe to receive weekly updates on the Astros minor league system. Also be sure to follow on Twitter, @AstrosFuture, and like my Facebook page, facebook.com/AstrosFuture.
**Photo Credit: Getty Images**