Fresno Grizzlies Season In Review
The Fresno Grizzlies came into the 2016 off their first ever Pacific Coast League title and as reigning AAA National Champions. As you could expect, the expectations for this club were high. While the 2016 season didn't necessarily go as planned, the Grizzlies were competitive and did a phenomenal job creating a flow of talent up to the Astros this season.
2016 Record: 73-70, 3rd Place Pacific Coast League Pacific Northern
As stated above, the Grizzlies had very high expectations for 2016. They field an opening day lineup that looked like this:
Tony Kemp (LF), Nolan Fontana (SS), A.J. Reed (1B), Danny Worth (2B), Jon Singleton (DH), Colin Moran (3B), Jon Kemmer (RF), Tyler Heineman (C), Andrew Aplin (CF)
This was a clearly a talented lineup but it didn't show up on the field as the Grizzlies finished just 10-11 in the month of April. Reed had a solid month of April hitting .260 with 5 HR, 18 RBI and Moran finished the month with a .292 BA and 15 RBI in 19 games. Rodgers struggled out of the gate on the mound posting a 5.14 ERA in April. Their struggles continued in May as they finished the month with a 12-18 record dropping them to 22-29 overall but some of the pitching started to turn it around. Rodgers went 3-1 with a 2.70 ERA and Hauschild has a 3.49 ERA. The month of May saw some promotions though as Colin Moran and Tony Kemp were both promoted to the Astros.
The Grizzlies turned it around in June finising the month with a record of 17-11. The pitching dominated this month with Hauschild posting a 1.45 ERA, Rodgers posting a 1.35 ERA, and Peacock posting a 3.00 ERA. While the month went well record wise, they lost Reed to the Astros late in the month. They had a great month of July going 19-10 and putting them back in the race. Unfortunately they went 12-19 in the month of August which pretty much put them out of contention.
Overall, is was an okay season but they did get some great performances. One of the Astros top position player prospects, A.J. Reed, finished his AAA season hitting .291 with 22 2B, 15 HR, 50 RBI. He got promoted to the Astros, and while he struggled a bit, he still has a ton of potential. Jon Kemmer was a big contributor this season for Fresno. He finished hitting .265 with 18 HR, 69 RBI in 120 games. He figures to be in the mix for an outfield spot in Houston next season.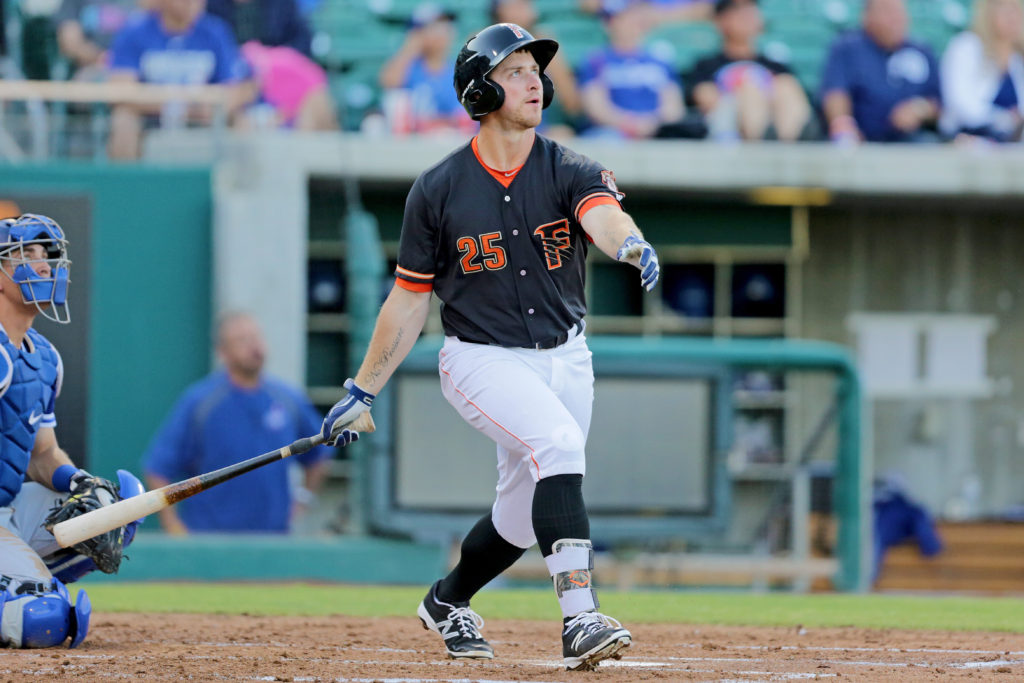 Teoscar Hernandez and Alex Bregman were both mentioned in the Corpus Christi season review but they had an impact with the Grizzlies as well. Bregman played in 18 games and hit .333 with 6 HR, 15 RBI before being promoted to Houston. Hernandez .313 with 4 HR, 23 RBI in his 38 AAA games. He was also promoted to Houston and both contributed to the Astros late push.
The Grizzlies were carried heavily by two pitchers, Brady Rodgers and Cesar Valdez. Rodgers put together a great season going 12-4 with a 2.86 ERA and 23 BB/116 K in 132 innings. Valdez was a huge surprise for Grizzlies and Astros fans. He went 12-1 with a 3.12 ERA and 13 walks in 138.1 innings.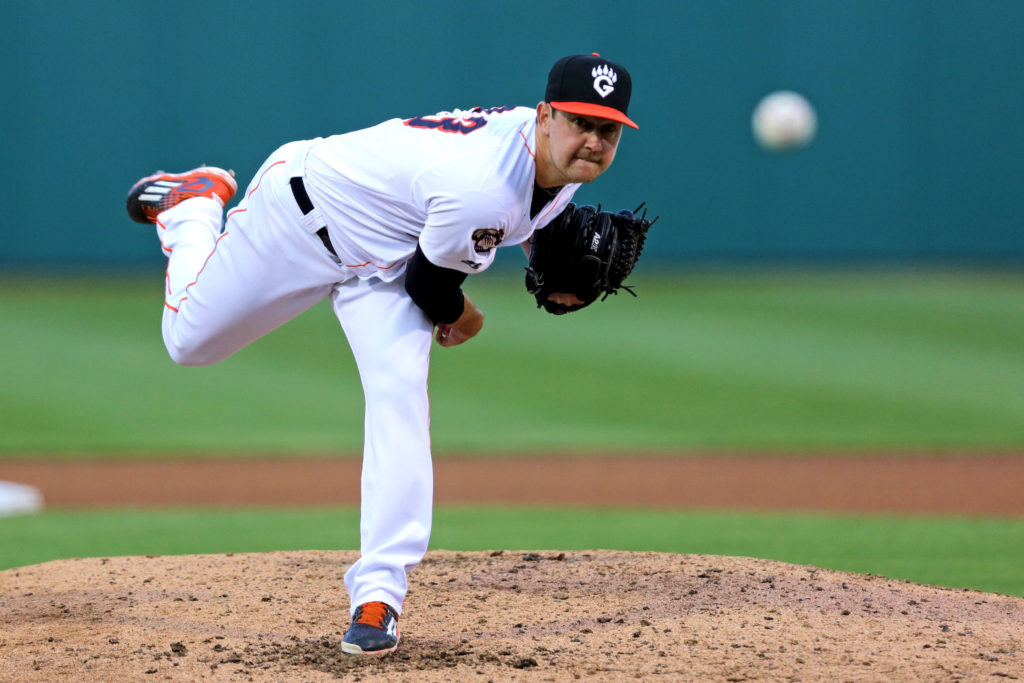 TEAM LEADERS
Hits – Colin Moran (119)
2B – Jon Kemmer (24)
3B – Jon Kemmer (4)
HR – Jon Singleton (23)
RBI – Jon Kemmer/Colin Moran (69)
BA – Danny Worth (.330 minimum 300 PA)
SB – Andrew Aplin (21)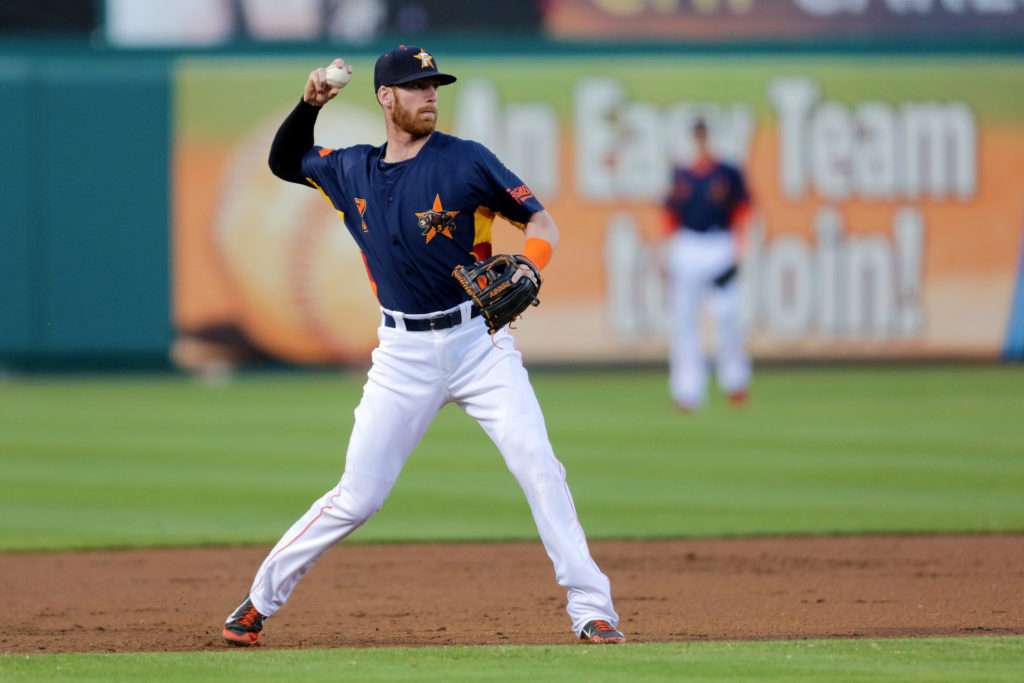 Innings- Mike Hauschild (139.2)
Wins – Cesar Valdez/Brady Rodgers (12)
Saves – James Hoyt (29)
Strikeouts – Mike Hauschild/Brad Peacock (119)
ERA – Brady Rodgers (2.86 minimum of 60 innings pitched)
OTHER NOTABLES
Colin Moran, 3B
Many people, including myself, were expecting big things from Moran this season. While he didn't have a monster year, he still managed to drive in 69 runs in 117 games and got a call-up to Houston. Moran was originally drafted by the Marlins and was traded to the Astros in 2014.
2016 Stats: 117 G, .259 BA/.329 OBP/.368 SLG, 18 2B, 10 HR, 69 RBI
Jon Singleton, 1B
Singleton was acquired by the Astros in 2011. He worked his way through the system garnering high praise for his power and patience. He debuted with Houston in 2014 but only hit .168 with 13 HR. He only played in 19 games last season, hitting just .191. This season with Fresno he had 20 HR, 66 RBI but only hit .202. He is only 25 and still has time to get it together.
2016 Stats: 124 G, .202 BA/.337 OBP/.390 SLG, 17 2B, 20 HR, 66 RBI, 83 BB/124 SO
Tony Kemp, OF
Another prospect Houston fans were excited to see. Kemp had a solid season in AAA before earning a promotion to Houston. Kemp did exactly what fans expected, hit for average and get on base. He made many highlight plays in the outfield this season as well. Kemp posted a .389 OBP this season in AAA, right next to his .392 career OBP.
2016 Stats: 69 G, .306 BA/.389 OBP/.396 SLG, 9 2B, 4 3B, 2 HR, 24 RBI, 10 SB, 34 BB/34 SO
James Hoyt, RP
Hoyt was dominant in the second half of the 2015 season and he continued that this season. He picked up 29 saves for the Grizzlies while posting a 1.64 ERA and 93 K in 55 innings. He got promoted to Houston and had a 4.50 ERA. He also allowed just 29 hits in 55 AAA innings.
2016 Stats: 4-3, 1.64 ERA, 29 SV, 55.0 IP, 29 H, 19 BB, 93 K, 15.2 K/9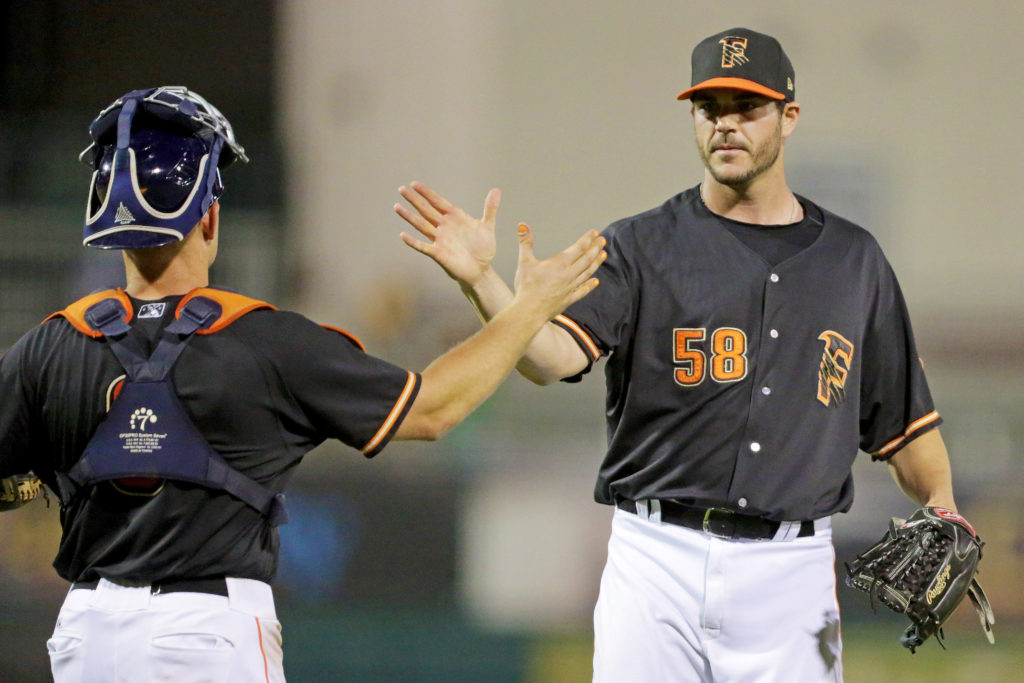 2017 OUTLOOK
A large group of the Grizzlies stars this season will be returning if they don't make the Astros 25 man roster. Derek Fisher played in 27 games for the Grizzlies in 2016 and figures to be one of the best prospects on Fresno's squad next season. Fisher hit .290 with 5 HR, 17 RBI in those 27 games. Francis Martes should also be joining the Grizzlies staff and will definitely be a pitcher to watch in 2017. As it has been the last few seasons, Fresno will be talented once again.
Be sure to subscribe to receive weekly updates on the Astros minor league system. Also be sure to follow on Twitter, @AstrosFuture, and like my Facebook page, facebook.com/AstrosFuture.
**Photo Credit: Kiel Maddox/Fresno Grizzlies**