Tri-City ValleyCats Season in Review
The Tri-City ValleyCats wrapped up their 15th year in the New York-Penn League in somewhat disappointing fashion.  The defending Stedler Division Champions missed out on the playoffs for the first time in four seasons.  At times though, the team was real exciting to watch.  As is the case with most lower level minor league teams, the roster you start the season with is never the roster you finish with.  This year was no different.  Many of the players that were performing well didn't stay too long which really made it difficult to sustain any type of success.
2016 Record: 38-38, 3rd Place in Stedler Division
After starting the 2016 campaign 6-8, the ValleyCats turned things around in July going 16-11 in their first full month of the season.  With a season-ending injury to Daz Cameron, and promotions to Quad Cities by Randy Cesar and Stephen Wrenn (among others), the 'Cats season started heading in the wrong direction.  A 13-17 August pushed them too far back to recover to make a push to the postseason.  One of the problems with a short season team is if at any moment during the three months the team stumbles, it's hard to get back on track.  That was the ValleyCats season.  It seemed as though anytime they strung together a few wins in a row, it would be followed by a similar streaks with losses.
It wasn't all bad.  Stephen Wrenn, who was drafted in the sixth round of the 2016 draft made his professional debut with the ValleyCats and was very impressive.  He didn't last very long playing just 36 games before being called up to Single-A Quad Cities.  At the time of his promotion, Wrenn was hitting .282/.365/.544.  The nine home runs he hit before leaving still remained the team lead the rest of the season.  He finished third on the team in RBI with 27 in half of the games.  He struggled a bit at the next level but I don't see that lasting.  It wouldn't be a stretch to think he would start the season in High-A with a possible ending spot in AA.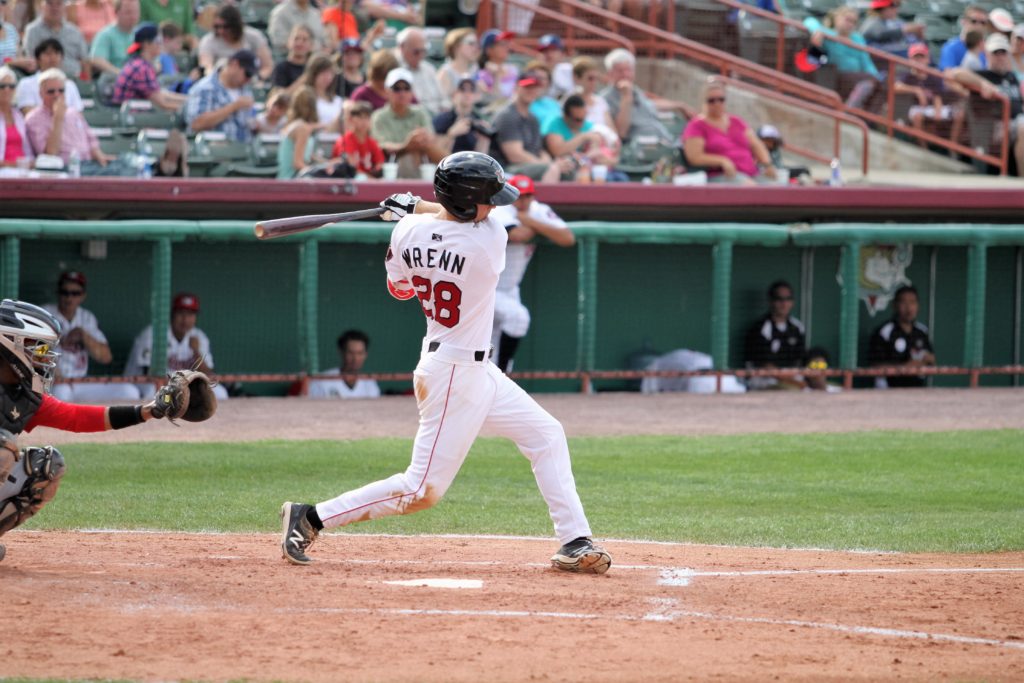 [Read Stephen Wrenn's Astros Future Prospect Profile by clicking HERE]
One of the other players that stood out that didn't last long in upstate New York was Randy Cesar.  Cesar played just 30 games with the ValleyCats and really was the first to get promoted.  His .389 lead the team even though it was less than half the season.  Like Wrenn, Cesar didn't have as much success at the next level and it may be hard to tell what the organizations plans are going to be with him but he is a player to keep watching.
Pitching wasn't a strong point for the ValleyCats, but they did receive decent seasons from a few.  Nick Hernandez had a good season with Tri-City throwing 19.1 innings on 15 appearances.  His ERA (1.86) was the third best among 'Cats pitchers with at least 19 innings pitched.  He like so many others didn't finish the season in the New-York Penn League.  His promotion came later (August 18th) but still well deserved.  The ValleyCats finished second to last in team ERA (4.10) but was second in strikeouts (654).
TEAM LEADERS
Hits – Taylor Jones (64)
Doubles – Taylor Jones (17)
Triples – Alex DeGoti and Rodrigo Ayarza (3)
Home Runs – Stephen Wrenn (9)
Runs Batted In – Taylor Jones (38)
Average – Randy Cesar (.389)
Innings Pitched – Austin Nicely (49.0)
Wins – Austin Nicely (5)
Saves – Nick Hernandez (6)
Strikeouts – Sebastian Kessay (62)
Earned Run Average – Abdiel Saldana (1.33 minimum 15 innings pitched)
OTHER NOTABLES
Ronnie Dawson, OF
The 2nd round pick from 2016 got off to a slow start but finished putting together a solid first taste of professional baseball. Dawson saw a nice power boost in July hitting 4 HR and also walked 25 times in 25 games. He followed that up hitting .294 in August. He finished slashing .225 BA/.351 OBP/.373 SLG with 13 2B, 7 HR, 36 RBI and 12 SB. There is a chance Dawson starts next season in High-A.
Spencer Johnson, OF
Johnson was drafted by the Astros in the 16th round of the 2016 draft. He played over three different levels hitting just .217 but showed off good power with Tri-City hitting 6 HR in 23 games.
Hector Perez, RHP
Perez had a mini breakout season and dominated his time with Tri-City. He went 2-0 with a 1.57 ERA, 28.2 IP, 19 H, 12 BB, 36 K before being promoted to Quad Cities.
2017 OUTLOOK
Trying to predict what next year will bring for a Single-A Short Season team isn't easy.  So many players will be shifted around to all different levels or to different teams entirely.  What I can say is players like Miguelangel Sierra (.140/.216/.183) has a good chance at least starting with Tri-City with the hopes of moving up.  He is just 18 years old so there is no reason to rush him along.  I had the chance to see him play a couple of times and in the games I saw he was better in the field as opposed to the plate but that was a very small sample size. Jonathan Arauz is another young infielder that could see himself on the ValleyCats at some point in 2017.
The ValleyCats welcomed their 2,000,000th fan through the gate in 2016 and had another stellar year at the turnstiles.  They finished third in the New York-Penn League in attendance, but did average the second largest crowd behind just Brooklyn. There is always plenty to look forward to at "The Joe" and next season will be no different.
Be sure to subscribe to receive weekly updates on the Astros minor league system. Also be sure to follow on Twitter, @AstrosFuture, and like my Facebook page, facebook.com/AstrosFuture.
**Photo Credit: Jayne Hansen**