Astros Future Interview: Drew Ferguson
Another season, another late round steal for the Astros. We have seen time and time again how the Astros have succeeded in the later rounds of the drafting getting guy like Tyler White, Jon Kemmer, and many others. After the 2016 season, it appears they got another steal in Drew Ferguson.
Ferguson was a 19th round pick by the Astros in the 2015 MLB Draft. He had a good showing last year between Tri-City and Quad Cities hitting .297 with 16 2B and 4 HR in 61 games.  The right handed hitting outfielder put together a very good 2016 posting the combined line between Lancaster and Corpus Christi:
2016 Stats: 105 G, .315 BA/.408 OBP/.542 SLG, 29 2B, 3 3B, 17 HR, 76 RBI, 30 SB, 51 BB/95 K
Drew was kind enough to take some time to answer a few questions. Here you can get to know Drew Ferguson a little better. Let's get to the interview.
Astros Future (AF): Can you describe the feeling of being drafted by the Astros?
Drew Ferguson (DF): "Being drafted by the Astros was a great day for me. I was extremely excited to get a chance to continue playing, and I think the organization is a perfect fit for me. Also, I was excited that my roommate from college, Jamie Ritchie, was with them as well."
AF: Did you have any knowledge of the Astros organization prior to the draft?
DF: "I knew that the Astros had a pretty analytical approach to evaluating players. Coincidentally, I've always been interested in advanced statistics in baseball, so it was great fit."
AF: What is the most memorable moment of your professional baseball career so far?
DF: "I'd say hitting a walk off homer against High Desert in the California league was memorable for me. I had never hit a walk off in pro ball and to do it with a home run was really memorable. We had a pretty intense rivalry with High Desert, too, so I loved beating them in that fashion."
AF: How has the adjustment been between the college game and professional ball?
DF: "I came from a relatively small D1 conference, so the jump in overall talent was pretty significant. I played well in my first stop in Tri-City, but I had to really improve my game to keep up with all of the talented players. Luckily, I was surrounded by a lot of great people in the organization to help me with my adjustment to pro ball."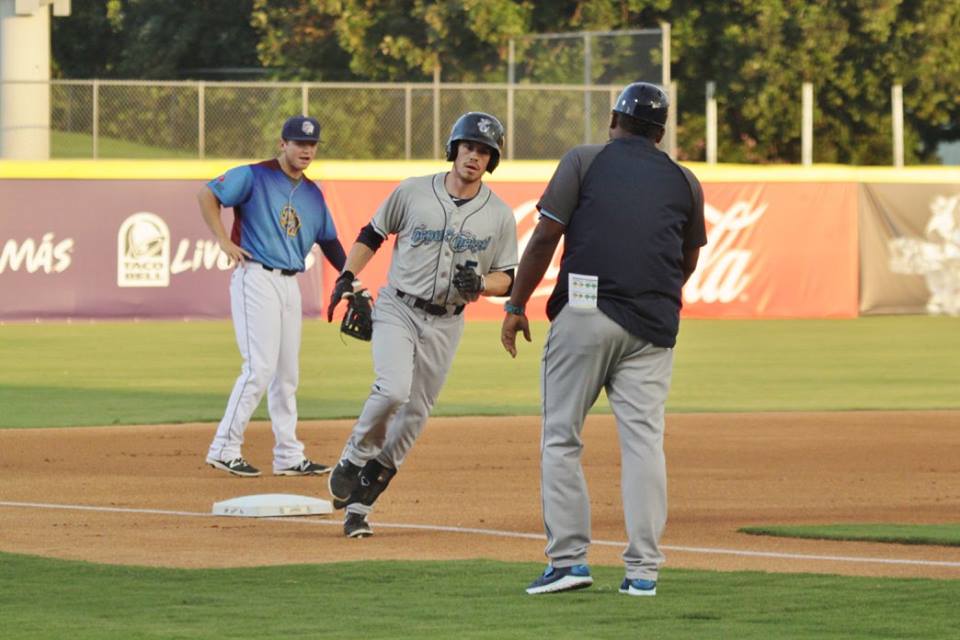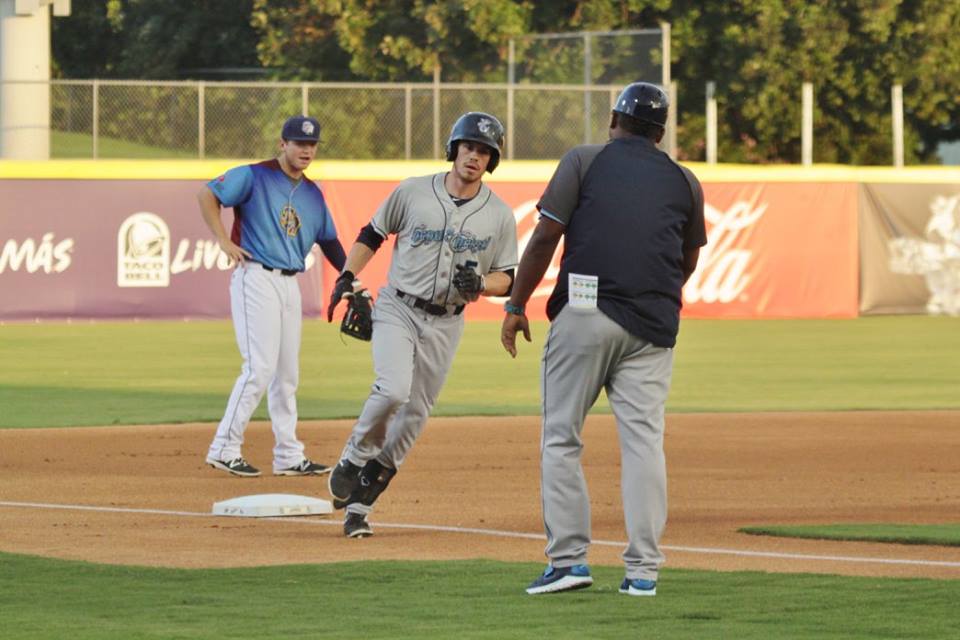 AF: Can you describe your hitting style? Are there any players you try to model yourself after?
DF: "My hitting style has evolved over the course of my career. I'd say first an foremost, I'm trying to avoid making outs. I'm not really as wrapped up in batting average as most. Instead, I'm trying to get on base at high rate and do damage when I do put the ball in play. I think to get on base at a high clip you have to drive the ball so that you're pitched more carefully and can draw your walks. At the end of the day, I'm looking to help the team score runs not just get hits. Depending on the situation, I could be focusing on getting on base or driving guys in.
I really like Josh Donaldson, Joey Votto, and Matt Carpenter. These three are different in some aspects but they all control the strike zone, do damage when they can, and produce a lot of runs. In particular I love watching Donaldson. I've followed him throughout his minor and major league career, and I am amazed at how hard he hits the ball despite not being that big."
AF: You put together a very good 2016. Did you make any specific adjustments over the off-season?
DF: "My focus is to put quality work in on my swing. My approach and mental game really matures with game experience, but there is always work to be done in refining my swing. I want to produce as much force as possible without sacrificing barrel accuracy. By that I mean that I want to have a repeatable, consistent, powerful and quick swing. The awareness of how your body is moving is the key to achieving that, in my opinion, and, deliberate goal-oriented batting practice is the best way I know how to work on that. So, that was my focal point over the past off-season."
AF: Could you notice a difference playing in the hitter friendly confines of the California League?
DF: "Of course, there are some wind-aided home runs and hitter friendly parks to play at in the Cal League. So power numbers may be a little inflated. But, it's a little frustrating that success in that league is always questioned. There was a lot of quality pitching in the league and other factors that make it tough like visibility/shadows when hitting and frequently big strike zones. I will say that the league is a good place to develop your approach because you can tailor your game to take advantage of certain environmental factors like wind blowing out. I think mature hitters do best here, and I also think anyone who does well in that league would do well in any league in the minors of a similar talent level."
AF: Prior to your promotion to Corpus, you hit .488 with 20 RBI in 10 games. What was it like going through a stretch like that?
DF: "Obviously, I was seeing the proverbial "beach ball" during that stretch. I don't think there was anything drastically different about my swing or approach, but I was able to swing at-bats in my favor consistently. I was hitting in good counts or surviving when I had two strikes because I was able to lay off or foul off the tough pitches. Consequently, I saw more pitches, and was able to capitalize when the pitcher eventually made a mistake. I also have to give credit to my teammates putting together good at bats and getting on base to have an opportunity to drive them in."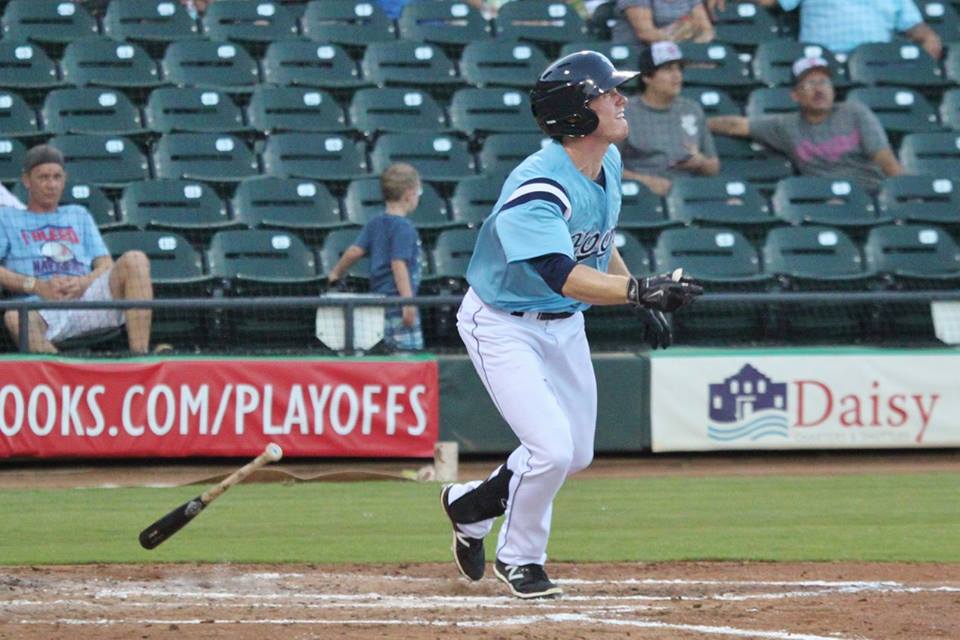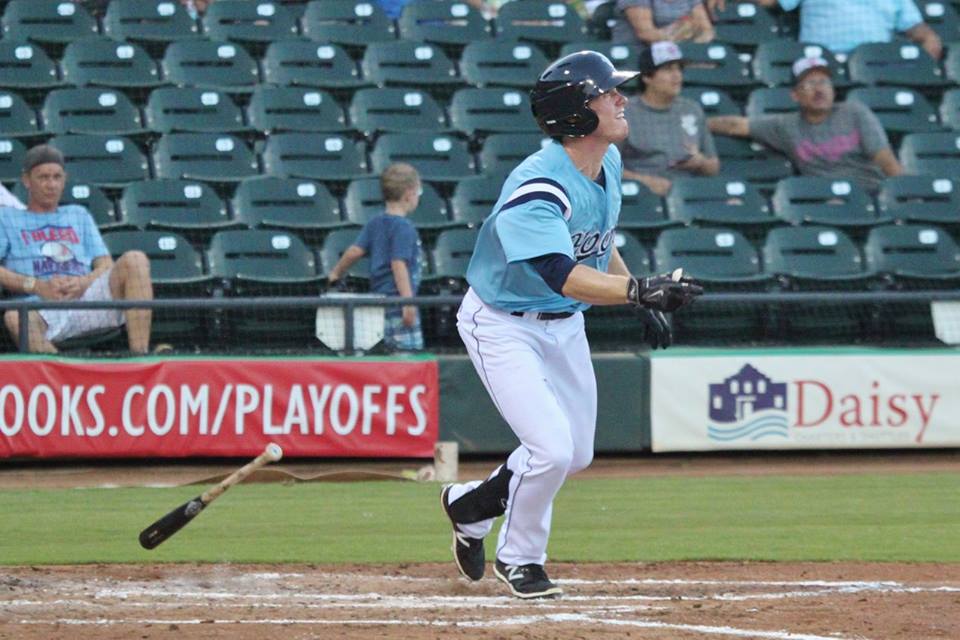 AF: What do you feel is your biggest strength on the field? What do you want to work on?
DF: "I think without question that my mind is my biggest asset. I have a good understanding of what it takes to score runs, so I pick good times to be aggressive or passive at the plate. On defense, I do a good job thinking about the game situation and having plan about how to prevent runs. For example, I have an idea about what balls I might want to dive for based on the situation or where I'll likely need to throw the ball.
I want to work on my swing and my arm accuracy. The swing work will likely come this off season while arm accuracy comes from working on my throwing mechanics and release so that I get good carry and a straight throw."
AF: In 166 minor league games, you have stolen 41 bases. Are the stolen bases a big part of your game?
DF: "I would say that they're a big part of my game if the other team is going to give me the next base. I like to try and pick good times to run like when the pitcher is slow to the plate or I think they're going to throw off speed. More importantly than stealing a lot of bases, I want to steal at a very high rate of success so I'm not killing rallies and giving away outs. Again, I want to steal only in hopes of scoring runs not to reach some arbitrary milestone."
AF: If you weren't playing baseball what would you be doing?
DF: "I have a Finance degree from Belmont University, so I think I would probably be working in that field somewhere, perhaps in financial advisory or with a bank. With my playing experience, interest in stats, and degree, I could also see myself working in a front office down the line."
AF: What are your plans for the off-season?
DF: I'm hoping to play Winter ball in a league that would be best for my development, but that's still in the works. Other than that, spend time with my friends and family and work on what I can from a baseball standpoint.
AF: What is one thing Astros fans should know about you?
DF: "My contribution to this organization won't fall short due to a lack of hard work. I'm determined to be the best player I can be, and I have a good knowledge base about what it takes to be a successful professional baseball player. I hope to use that knowledge to guide my development and hopefully contribute at the major league level one day."
As detailed above, Ferguson had a great 2016 between Lancaster and Corpus Christi. Next year he should see time between AA and AAA which means he is one step away from reaching the MLB. Thanks again to Drew for taking the time to answer some questions. Be on the lookout for him in 2017.
Be sure to subscribe to receive weekly updates on the Astros minor league system. Also be sure to follow on Twitter, @AstrosFuture, and like my Facebook page, facebook.com/AstrosFuture.
**Photo Credit: Tammy Tucker**