---
Houston Astros Prospect Profile: Ramon Laureano
The beauty of having a front office that scouts well is building a deep farm system The beauty of having a deep farm system is that players will pop up every year establishing themselves as legit prospects to watch. One player that has done that this year is outfielder, Ramon Laureano.
Laureano, who turned 22 in July, was born in Santo Domingo, Dominican Republic but attended college in the United States at Northeast Oklahoma A&M College. Laureano dominated the JuCo level his sophomore season hitting .429 with 13 HR, 69 RBI and more walks than strikeouts.
This production was enough for the Astros to take Laureano in the 16th round of the 2014 MLB Draft. Laureano is listed at 5'11' and 185 lbs. Despite being slightly undersized, Laureano has a very strong build. One scout told me this about Laureano:
"This Laureano kid has a chance to be an everyday player, five tool player. Can play all three positions in the outfield. Could stay in center that makes him even more dynamic"
Following the draft Laureano was assigned to rookie level Greeneville where he struggled hitting just .189 with 1 HR in 16 games. In 2015, the Astros assigned him to the Quad Cities River Bandits where his talent started to show. In 76 games for the River Bandits he hit .265 with 15 doubles, 8 triples, 4 homers, and 18 stolen bases.
Prior to the start of this season, I picked Laureano to be one of the Astros breakout prospects and he has done just that. In 80 games for the Jethawks he slashed .317/.426/.519 with 19 doubles, 10 homers, 33 stolen bases and a 156 wRC+. His final 20 games with Lancaster were even more impressive. In those 20 games he hit .440 with 5 HR, 17 RBI earning him a promotion to AA Corpus Christi.
He has only played 14 games with Corpus Christi but is already making an impact. Laureano is currently hitting .286/.386/.592 with 7 doubles and 2 homers. Bobby DeMuro, writer for Today's Knuckleball, does a great job scouting the California League and had this to say about Laureano:
"At the plate, he's very quick to the ball, making it work right now with a compact swing and good bat speed, though he's not likely to hit for home run power at higher levels. He is comfortable using all fields—a trait that, combined with his speed, could make him a significant doubles threat."
DeMuro also mentioned that Laureano is an aggressive and scrappy player who is involved in everything on the field. You can read DeMuro's full report here. Here is Laureano's spray chart thanks to MLBfarm.com: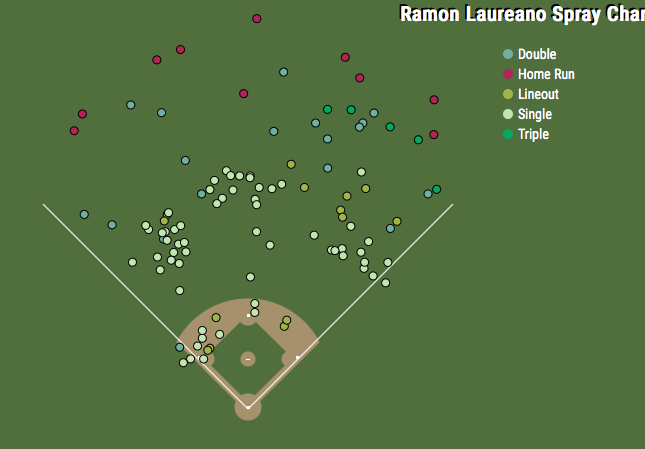 As mentioned above, Laureano is a aggressive player. On July 24th, just Laureano's third game with Corpus, he was involved in a brawl after Danry Vasquez was hit by a pitch. This aggressive nature took over as he defended his team and was ejected from the game. Not necessarily something to brag about but it is evident of his passion and aggressiveness. He is not just an offensive threat either. Baseball America rated Laureano the best outfield defender in the California League.
Here is a video of Laureano in the California League, courtesy of DeMuro:
While this season has been great for Laureano so far, there are always things one can work on. He has struck out 102 times in 94 games this season which could use some work, but that has also came with 55 walks. With his combination of power, speed, and outfield defense, he is definitely one to watch over the next calendar year. The Astros may need outfield help in 2017 and Laureano might just be the one to help.
Be sure to subscribe to receive weekly updates on the Astros minor league system. Also be sure to follow on Twitter, @AstrosFuture, and like my Facebook page, facebook.com/AstrosFuture.
**Feature Photo Credit: Tammy Tucker**