Astros Breakout Prospect: Rogelio Armenteros
Every year in the minor leagues there is a prospect that comes out of nowhere and has a breakout season. It could be a position player or a pitcher, an high school draftee or an international signing. This is what makes following the minor leagues so much fun. This season the Astros have had a pitcher "breakout" in the system and his name is Rogelio Armenteros.
Armenteros was born and raised in Cuba and actually played professional baseball in Cuba at just 17 years old in 2011. He only pitched in 13.1 innings that season for Industriales. Armenteros threw in a few showcases with a few Astros scouts in attendance but not as the main guy. For some reason, many teams passed on him. One Astros scout saw some things that he liked in Armenteros and recommended the Astros sign him. On September 15th, 2014, the Astros ended up signing Armenteros for $40,000.
As a 21 year old in 2015, Armenteros started the season in the New York Penn League with the Tri-City ValleyCats. He pitched in 44 innings posting a 4.09 ERA with 17 BB/40 K. He got a promotion to the Quad Cities River Bandits where he made 3 starts at the end of the season. He pitched very well in those starts compiling a 2.65 ERA with 7 BB/21 K in 17 innings.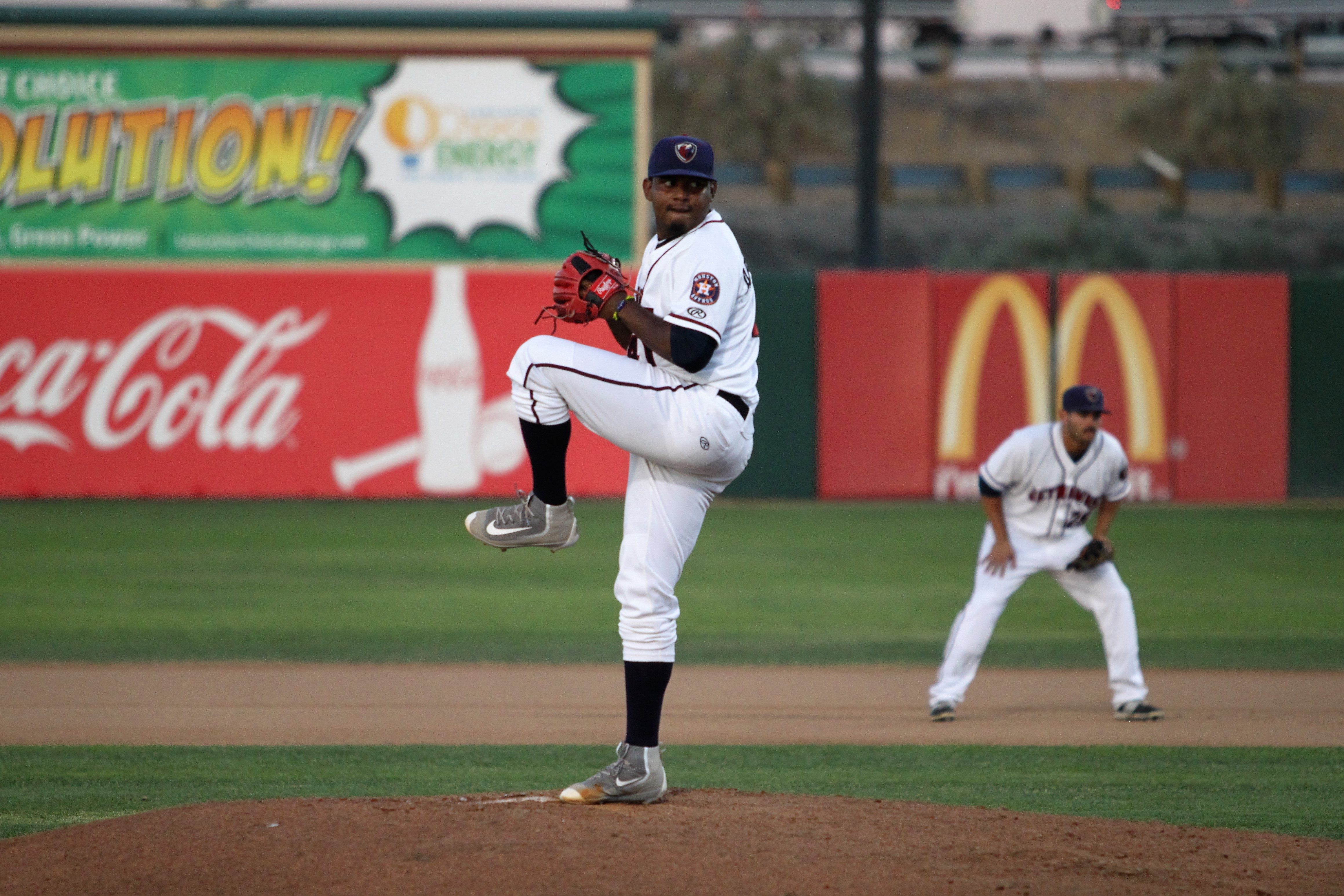 Armenteros started the 2016 season assigned to the River Bandits, but he didn't stay there long. He only pitched in 4 games there with a 1.93 ER and 3 BB/20 K in 18.2 innings. This was enough to earn him a promotion to the hitter friendly California League. Many pitchers struggle in the California League but Armenteros continued to dominate. He has since been promoted to AA. To this point in the season he has a 3.57 ERA with 41 BB/130 K in 116.0 innings. He currently leads the Astros minor league system in strikeouts in 2016 with 130.
Armenteros possesses a five pitch mix featuring a 4 seam fastball, 2 seam fastball, curveball, slider and changeup. His fastball sits low 90s but touches the mid 90s. His curveball is probably his best off speed offering and does a very good job mixing his pitches and throwing strikes. He has a good gameplan attacking hitters and knows how to execute to make his pitches play up. To this point in the season, Armenteros has to be the come out of nowhere "breakout" prospects.
Be sure to subscribe to receive weekly updates on the Astros minor league system. Also be sure to follow on Twitter, @AstrosFuture, and like my Facebook page, facebook.com/AstrosFuture.
**Photo Credit: Jayne Hansen**