Astros MiLB: James Hoyt Continues to Dominate
Since Jeff Luhnow has become the General Manager of the Astros, we have seen many times where the lesser known pieces of the trade end up being one of the best assets. This has been the case with Musgrove in the trade with the Blue Jays, Martes in the Marlins trade, and Devenski in the trade with the White Sox. Another lesser known asset the Astros received in a trade is right handed reliever, James Hoyt.
On January 15th, 2015, the Astros sent three prospects to Atlanta in exchange for major leaguer Evan Gattis and minor league reliever James Hoyt. Not many people knew about James Hoyt or what to expect from him. At the time, he was a 28 year old relief pitcher coming into a stacked Astros farm system.
Hoyt is listed at 6'6″ and 230 lbs. The interesting part about him is that even though he is 29 years old in AAA, he isn't a guy who has been pitching in the minors for 8-10 years. His first season with an MLB organization was 2013 with the Atlanta Braves. Hoyt pitched in college for Palomar College but ended up going undrafted. He ended up going back home and working on boats.
Shortly after he heard about an Independent League team and pitched for them in 2011 season. Unfortunately the team folded after this season and Hoyt had to find a new place to play. He ended up playing for two more Independent League teams in 2012 before being signed by a Mexican League team (comparable to AAA).
Due to his performance in Mexico, the Braves signed him to a contract in November 2012. In 2013 he pitched for two levels, A+/AA, and compiled a line of 3.94 ERA, 82.1 IP, 56 H, 38 BB, 105 K. The following season he pitched between AA/AAA with a 3.17 ERA and showed the same stuff, 59.2 IP, 24 BB, 77 K.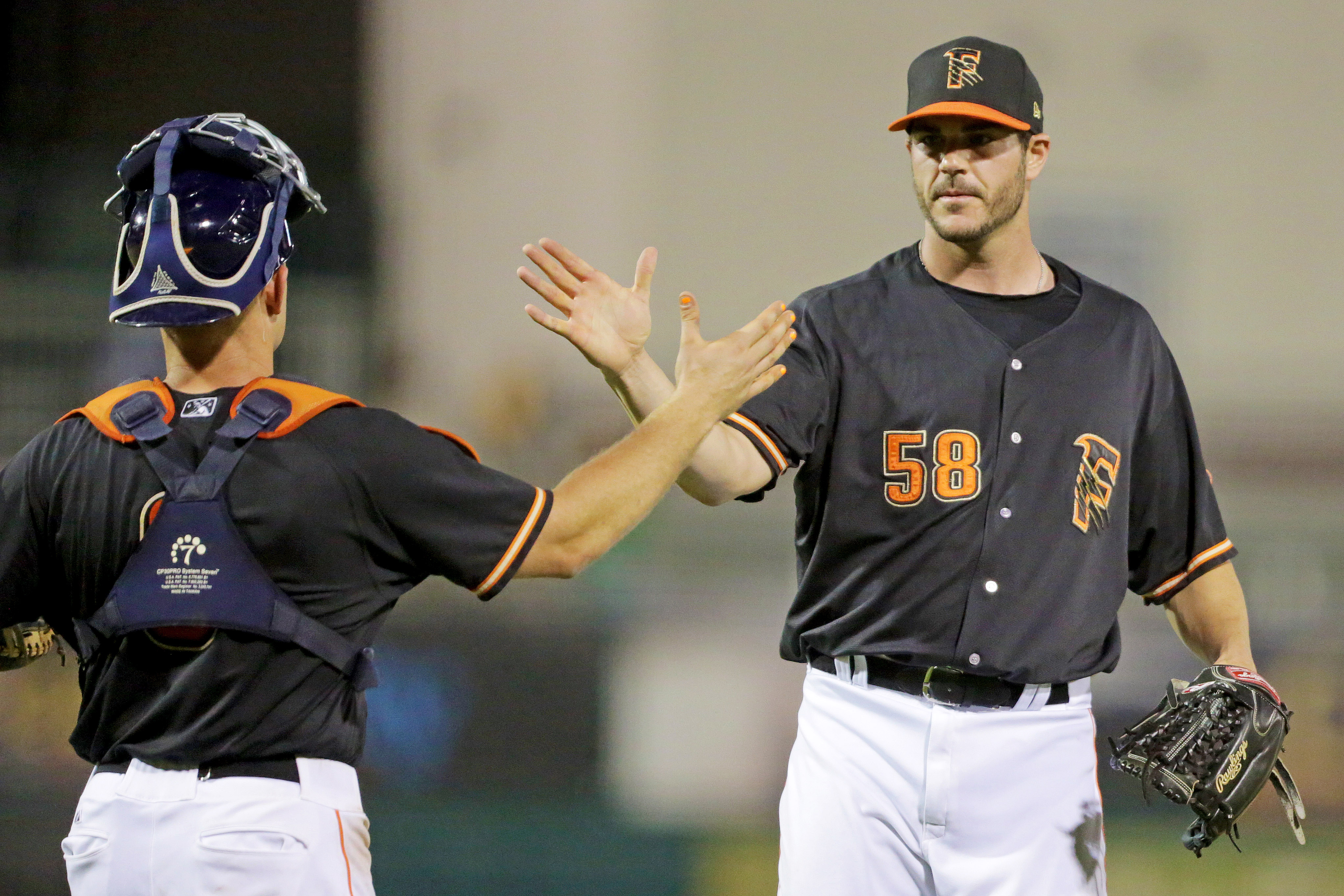 In 2015, in the Astros system, he was assigned to AAA Fresno Grizzlies. He finished the season with a 3.49 ERA but was better than that showed. From May 14th to the end of the season he had a 1.50 ERA with 36 IP, 27 H, 6 ER, 6 BB, 52 K. That is good for 1.5 BB/9 and 13.0 K/9.
He carried this dominance over to the Venezuelan League where 1.86 ERA with 5 BB/26 K in 19.1 innings. This spring he had 7 BB/21 K in just 11.1 innings for the Astros. He has been the closer for the Grizzlies this year and it dominating. So far this season he has a 1.67 ERA with 8 BB/44 K in 27 innings. That is 2.8 BB/9 and 14.9 K/9.
Hoyt possess a mid to high 90s fastball, high 87-88 MPH slider, and an 87-90 MPH splitter. Both his slider and splitter are plus pitches that he can get guys out on. Those two with the mid 90s fastball makes it easy to understand why he is dominating in the minor leagues.
The Astros bullpen has been great recently and is pretty loaded but James Hoyt deserves a shot. I would bet he makes his MLB debut at some point this season for the Astros, and if he pitches like he has the last two seasons, the Astros bullpen could go from good, to one of the best in all of baseball.
Be sure to subscribe to receive weekly updates on the Astros minor league system. Also be sure to follow on Twitter, @AstrosFuture, and like my Facebook page, facebook.com/AstrosFuture.
**Photo Credit: Kiel Maddox/Fresno Grizzlies*