Houston Astros Prospect Profile: Nick Tanielu
One of the things that makes writing for a site like AstrosFuture.com so great, is the ability to highlight a player within the Astros organization that some might not be too familiar with.  They might not be household names yet, but with the talent that is in baseball as a whole, it could only be a matter of time.  The player that exemplifies exactly what I mean, is infielder Nick Tanielu.
Tanielu was selected in the 14th round (406th overall) in the 2014 draft by the Astros from Washington State.  He had a very productive Collegiate career, .364/.433/.506/.939 in 82 games with the Cougars, and was named to the Pac-12 All-Conference team after the 2014 season.  His numbers were gaudy, but his lack of power from traditionally a power position and some defensive questions prevented him from being selected higher according to scouts and other sources.
After signing his first professional contract, Tanielu began his career playing for the New York-Penn League's Tri-City ValleyCats.  He appeared in 62 games in 2014 hitting .300 with three home runs and 40 RBI.  He played most of the games at third base, but did spend time at second as well.  He earned a spot on the NYPL's All-Star team, where he added Player of the Game honors to his resume.
His output in Short Season Single-A with the ValleyCats, earned him a promotion to Single-A Quad Cities of the Midwest League.  Tanielu picked up where he left off playing in 110 games for the River Bandits.  He ended the season batting .308 and doubled his home run total from the previous season with six bombs.  Quad Cities experimented a little more with positioning playing Tanielu at first (11 games) and second (6 games), but the rest of the time he was at the hot corner.
Tanielu's "Road to the Show" stayed on track starting the 2016 season as the natural progression through the system led him to Lancaster (Single-A Advanced) of the California League.  This is when I started to take notice with what he was doing.  He had a series of five-game hitting streaks (including two that went six games) in his first 35 games at the new level.  He was hitting ..363/.397/.548/.945 during that span and already hit four home runs with 28 driven in.  His strikeout to walk ratio is a little alarming (22 K's to 7 BB), and his defense could use some work, but his live bat earned him an in-season promotion to Double-A Corpus Christi.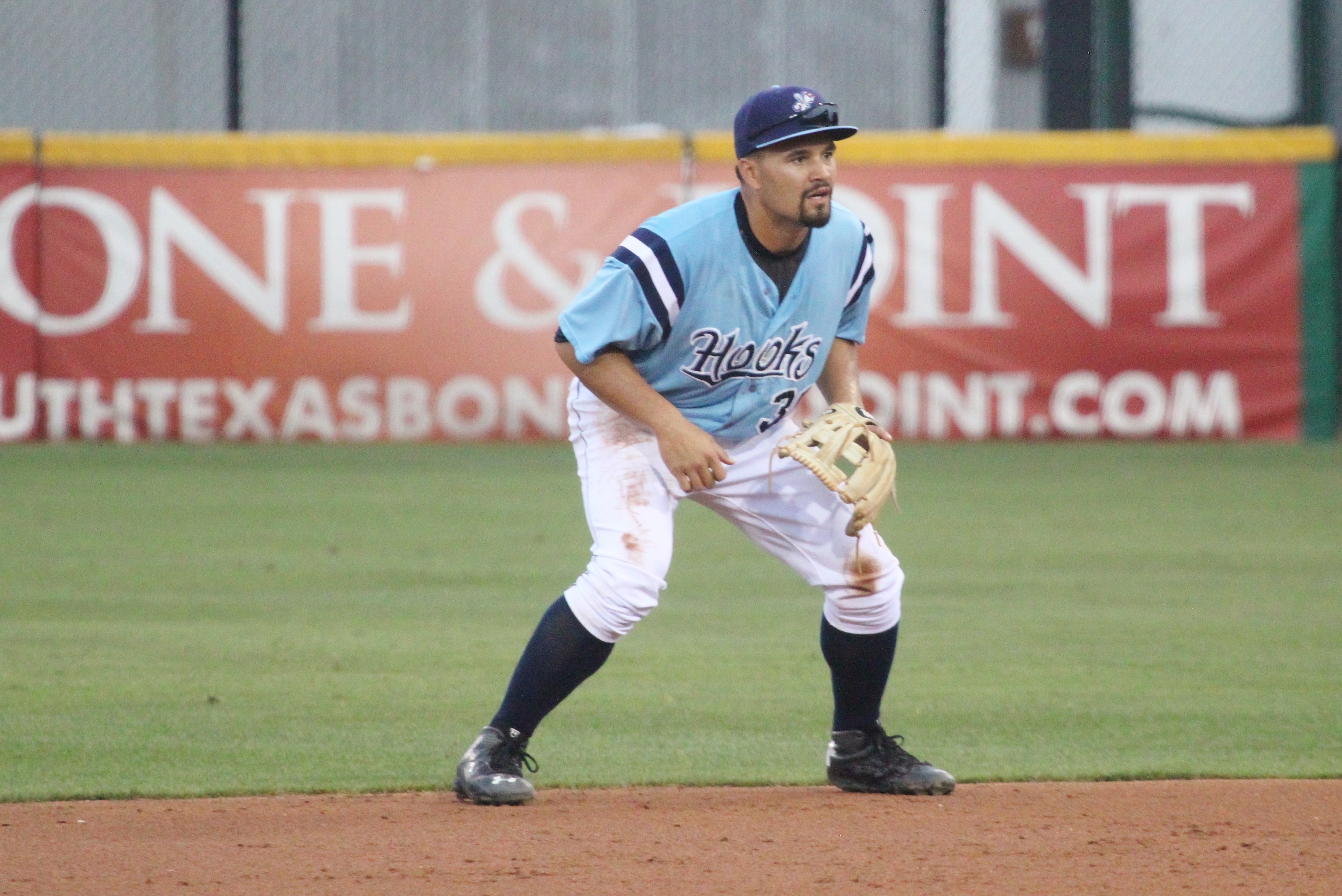 Spending most of his time in the minor leagues as a third baseman, Tanielu has played exclusively at second base for the Texas League's Hooks which is due largely in part to Houston's #12 prospect JD Davis who already occupies that spot.  So far for Corpus Christi Tanielu is hitting .267 in seven games.  He has 2 2B, 1 HR in those games for Corpus.  Certainly something worth keeping an eye on as you can be sure the Astros are as well.
Making it to "The Show" as a 14th round pick isn't impossible.  Several have made it before him, most notably Dexter Fowler who was the Colorado Rockies 14th round selection in 2004, but the battle is real.  Organizations have a certain way of handling prospects, and larger investments (monetarily and draft position) have a way of blocking the road for others.  One way to stop that trend is to out-perform the ones in front of the line and continue to improve and work hard which is nothing new to Tanielu.
Providing the natural progression in his career continues, the Astros will have to become creative when finding him a place to play if/when he gets there.  With the infield all but cemented for the next decade with Carlos Correa, Jose Altuve, and prospects AJ Reed, Alex Bregman, and JD Davis in the mix, Tanielu might have to learn yet another position but if he hits, they will find a place for him.
Be sure to subscribe to receive weekly updates on the Astros minor league system. Also be sure to follow on Twitter, @AstrosFuture, and like my Facebook page, facebook.com/AstrosFuture.
**Photo Credit: Tammy Tucker**