Houston Astros Prospect Profile: Colin Moran
Since taking over as the General Manager for the Astros, Jeff Luhnow has made numerous trades. Some have worked out, some haven't worked out, and others are still to be determined. One of the trades was a big six player deal in which Houston sent three players to Miami for three prospects and a draft pick.
One of the prospects coming back to Houston was Colin Moran. Moran was the #6 overall pick in the 2013 MLB draft. In the same draft, the Astros took Mark Appel with the first overall pick, though there were rumors the Astros were interested in taking Moran with the first pick. A little more than a year later, they got their man.
Moran, born in Port Chester, New York, played his college baseball at the University of North Carolina. Moran started all three years in college compiling the following stat lines:

As a freshman he broke onto the scene hitting .335 with 47 BB/33 SO and was named the Baseball America and Perfect Game Freshman of the Year. His junior year, at just age 20, he hit .345 with a staggering 63 BB/25 SO ratio and a new high in HR with 13. Moran was widely considered the best pure hitter in the draft and one who comes with great plate discipline and improving power. As stated above, the Astros ended up selecting Mark Appel and Moran was drafted 6th overall by the Marlins.
Pre-Trade to Astros
Following the draft the Marlins aggressively put Moran in full season, single-A. In 42 games he hit .299 with 4 HR, 23 RBI, 15 BB/25 SO. This was enough for Moran to be rated the #51 prospect by MLB.com prior to the 2014 season. Moran suffered an MCL sprain in Spring Training causing him to start the season on the disable list. After coming off the DL, he was assigned to the Jupiter Hammerheads of the Florida State League (A+). In 89 games there he hit only 5 HR but did manage to hit .294. On July 31st, 2014 he was traded to the Astros.
Post-Trade 
After the trade the Astros aggresively assigned Moran to AA Corpus Christi. In 28 games there he hit .304 with 2 HR, 22 RBI. Although he finished hitting .296 with 7 HR over two levels, he was left off of top 100 lists. Moran started 2015 with the Corpus Christi Hooks in what looked to be a big year for him. He only hit .268 in April but did have 17 RBI in 20 games.
On the last day of April Moran suffered some unfortunate luck. Moran suffered a non-displaced jaw fracture. While sliding into second base, he was hit in the face with an errant throw. This caused him to miss pretty much all of May but he would come back with a vengeance. Moran would come back to hit .241 in June but took after after that. In the second half of the 2015 season Moran hit .333 with 13 2B, 9 HR, 41 RBI, 30 BB/53 SO in 59 games. This line projected over 162 games would give him 36 2B, 24 HR, 113 RBI. This looks more like a #6 overall pick in the draft.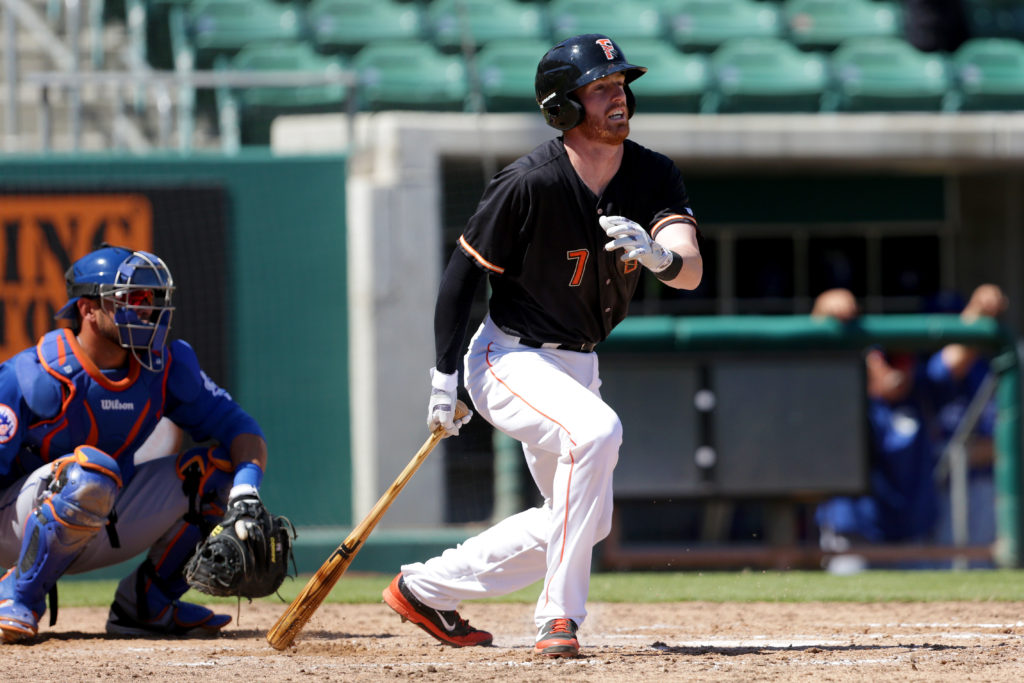 Moran was invited to Astros spring training in 2016 and he did not disappoint. In 43 at-bats this spring Moran hit .349 with 3 2B, 3 HR, 9 RBI, 4 BB/5 SO drawing rave reviews. There was a chance he could make the opening day roster but the Astros made the decision to start him in AAA.
So far this season he has continued to hit compiling the following line: .300 BA, 4 2B, HR, 15 RBI in 21 games. His career batting average in the minors now sits at an even .300. Moran is a guy who is going to hit for average but the power is still developing. He is a solid defender at third as well. With Luis Valbuena a free agent at the end of 2016, and the current struggles he is going through, it looks like Moran should get an opportunity this season with a chance to be the opening day starter in 2017.
Be sure to subscribe to receive weekly updates on the Astros minor league system. Also be sure to follow on Twitter, @AstrosFuture, and like my Facebook page, facebook.com/AstrosFuture.
**Photo Credit: Keil Maddox/Fresno Grizzlies**