Houston Astros Prospect Profile: Albert Abreu
When most baseball fans hear the name Abreu, the first player to come to mind is probably the White Sox power hitting 1B, Jose Abreu. If you've been a fan of the game for longer than Jose's tenure in The Show, or were an Astros fan in 1997, then there's a good chance Bobby Abreu comes to mind as well. However, most casual baseball fans, or even the casual Astros fans, don't recognize the name Albert Abreu.
You should probably remember the name.
Seriously, this kid is a stud, and he has seemingly come out of nowhere. Before the start of the 2016 Season, during the dreadful dead period of baseball offseason, I had no idea who this kid was. After hearing about the season the current 20 year old had in 2015, I dug to find more on the kid from the Dominican Republic.
Statistics
Abreu was signed at the age of 17 out of the Dominican Republic in 2013 by the Astros for $185,000. Assigned to Rookie League, he immediately dominated the DSL teams, pitching in 14 games, tallying 68 innings with a record 3-2 with an ERA of 2.78, WHIP of 1.132, walking 29 (3.8 BB/9) and striking out 54 (7.1 K/9) batters.
The following season in Rookie Level Greeneville, he pitching in 46.2 innings over 13 games, with only 7 starts, pitching his way to a 2-3 record, improving his ERA to 2.51, with a 1.200 WHIP, striking out 51 (9.8 K/9) and walking 21 (4.0 BB/9). While the level of play doesn't compare to the levels he will be facing as he keeps progressing through the minors, it's a great starting point for an 18 year old.
Through 5 games this season, he has hit a bit of a rough patch. His record is 0-3 with a 4.43 ERA, but his WHIP remains a low 1.13 and he continues to strike out a large number of hitters, currently at 31 through 20.1 innings pitched.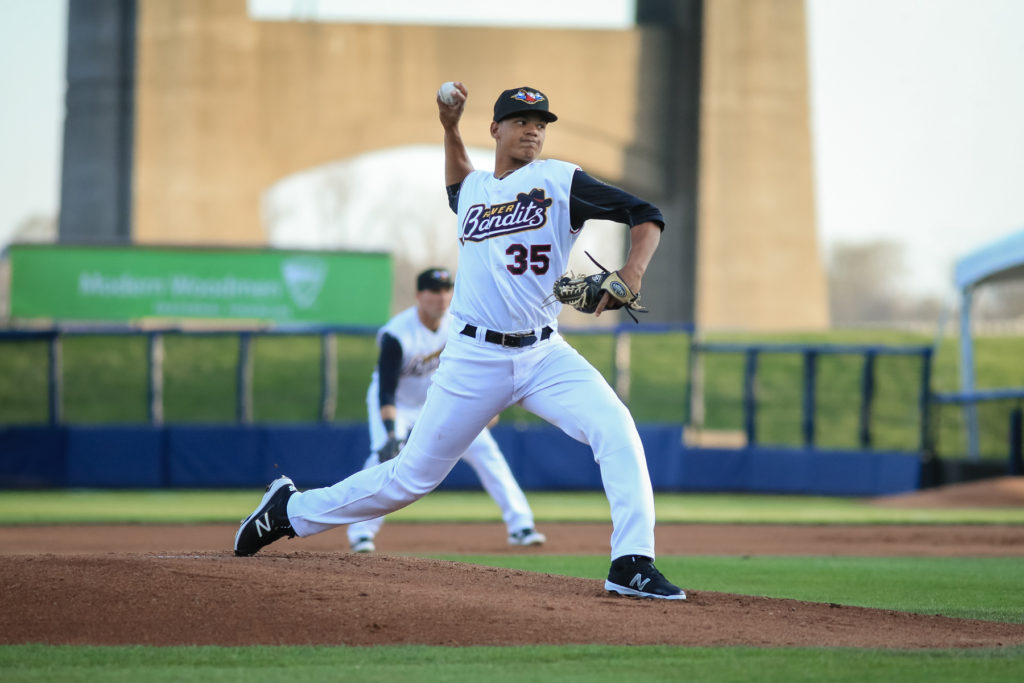 The Repertoire
Coming out of the Dominican Republic, his mechanics were consistent for his 6'2″ frame and he featured a fastball that resided in the 87-91 mph range, topping out around 93. With his development in the minors so far, he has improved his velocity to the mid-90s range, topping out as high as 99 mph. He has four plus pitches (Fastball/Slider/Curveball/Changeup) that he can throw consistently for strikes and can miss a lot of bats with all 4 of them. His changeup is his most consistent, and probably his nastiest pitch, having a steep drop to it late in its path which generates a lot of frustration in hitters.
Going forward in his progression, Abreu will continue to fill out his frame, currently standing 6'2″ and weighing 175. Topping out at 99, one has to wonder how much more velocity he can add. As he continues to pitch, he'll get more comfortable with all of his pitches and will continue improving all of them, giving him a nasty repertoire to choose from to add to the fire power he possesses in his fastball.
Abreu isn't yet recognized in the prospects circle, but he is well on his way to being another prospect that Astros fans can be excited to watch progress in hope he can make it to Houston as quickly as possible. Though, as a 20 year old in Full-Season Quad City for the first time, Abreu has a while before his is ready to take on the Major Leagues. Having struggled this season so far, he has a lot of work to do, but with the talent and athleticism he possesses, he can make the necessary adjustments to be productive and a force to be reckoned with in the near future. Expect to see him debut in the Major Leagues sometime in 2018 or early 2019 if he can continue to develop and not run into any road blocks. With plenty of pitching talent above him, Luhnow can be patient not only with Abreu, but with all of the younger pitchers in the system.
Be sure to subscribe to receive weekly updates on the Astros minor league system. Also be sure to follow on Twitter, @AstrosFuture, and like my Facebook page, facebook.com/AstrosFuture.
**Photo Credit: Richard Guill**