Corpus Christi's Three-Headed Monster
Each year, somewhere around 1,200 players get drafted to a Major League Baseball franchise for their shot to prove to the front office over a span of 2-4 years that they have what it takes to get to baseball's highest level. For batters, crushing the opposition's pitching gets you noticed very quickly, and the more they hit, the higher they go up. Rookie Ball, Short Season A Ball, Low A, High A, Double-A. And once a player gets to Double-A, next there is only one more level to conquer before a player's dreams come true.
But when players are tasked with facing the Corpus Christi Hooks, the dreams are abruptly halted and replaced with nightmares. Or perhaps, 3 consecutive nightmares. That's because awaiting the Double-A opposition when they play the Corpus Christi Hooks is the not-so-debatable best rotation in Minor Leagues: Joe Musgrove, David Paulino, and Francis Martes.
What's interesting is that none of the three blue-chip prospects were drafted or signed by the Astros. All three came in trades by Jeff Luhnow and the front office. Musgrove was packaged in the 2012 JA Happ trade with the Blue Jays, Paulino in the 2013 Jose Veras trade as the PTBNL, and Martes in the 2014 Astros trade with the Marlins, centered around Jarred Cosart.
Before their arrival to the Astros franchise, the three pitchers were considered afterthoughts, having not performed to the high expectations attached to them and therefore awarded to the Houston Astros during their "Fire Sale" days back in the middle of the most grueling rebuild in sports history when they would trade anyone with a pulse.
Even after they were traded to the Astros, the pitchers were met with similar results as the ones they had with their former teams. All three since the trades have run into some roadblocks along their paths. For example, Musgrove pitched to a 4.41 ERA and a WHIP of 1.43 in first full season in the Astros system while Paulino missed the entire 2014 season due to Tommy John Surgery. Martes meanwhile faced some rough patches before he found his way to the Astros, owning a 5.18 ERA over 33 innings with the Marlins in 2014
But with patience and the knowledge of the potential and skills each pitcher possessed, the Astros were rewarded for their efforts as each pitcher broke out in a huge way over the past two seasons. But so far in 2016, the Hooks Three-Headed Monster has turned it up a notch.
Joe Musgrove is pitching like no one else in Minor League Baseball right now. Having pitched in 6 games, Musgrove has a 0.34 ERA (1 ER in 26.1 innings), .083 WHIP, and is striking out 10.3 batter per nine innings with only 3 walks on the season. With the numbers he has put up, and the dominance he has flashed in Double-A, a call-up to AAA, to quote GM Jeff Luhnow, is "imminent". Musgrove could even see time in the Astros' bullpen or rotation as early as next month, though not likely.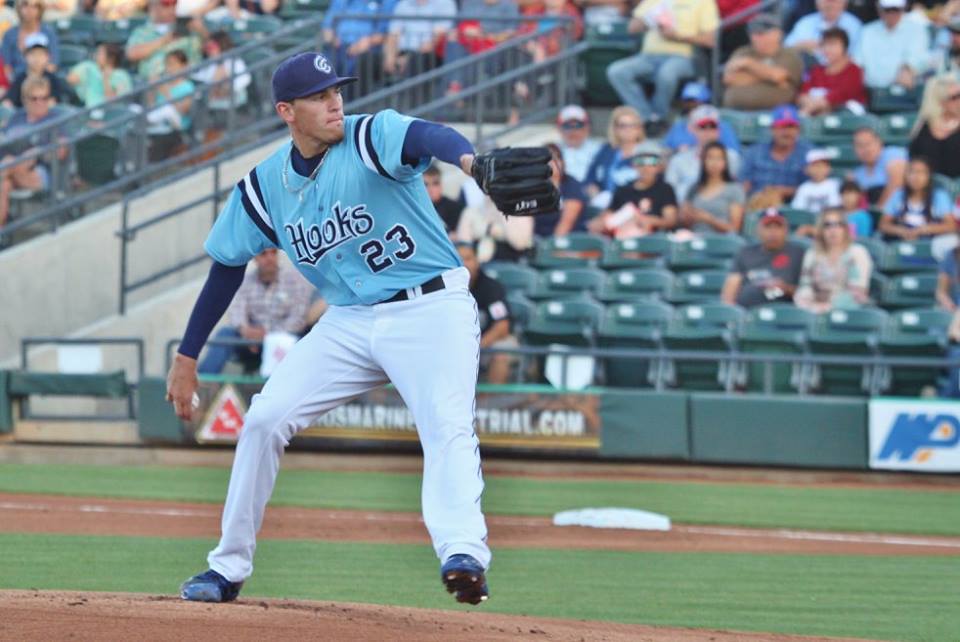 Meanwhile, David Paulino is virtually unhittable, posting a 2.08 ERA with a WHIP of 1.038 through 26 innings, also striking out 11.1 batters per nine innings. There is a good chance that with him recently coming off of Tommy John Surgery that he will be in Double-A for a little while longer, but continuing at the pace he is pitching at, it won't be too long until his next challenge is Triple-A. Most important for Paulino is he is limiting the walks, to just 6 in the 26 innings.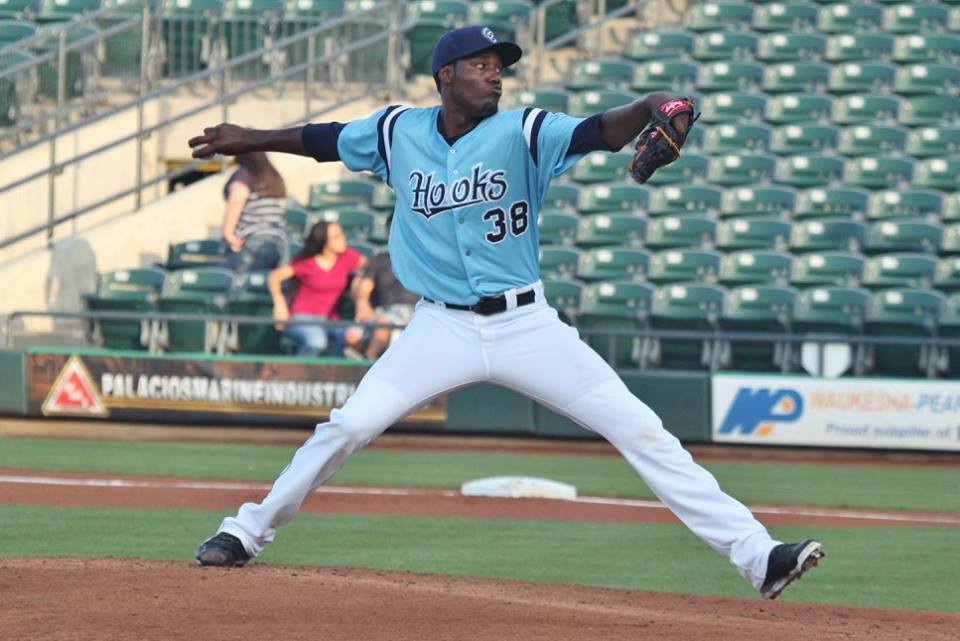 While Francis Martes has faced some bumpy roads so far this season, owning an ERA of 7.06 through 21.2 innings and a WHIP of 1.892, he had a huge 2015 season pitching across 3 levels and doing it all with a 2.08 ERA. When he starts to click later in the season, opponents must take note because when he starts his hot streak he's just as good as the other two. Still just 20 years old and struggling, continued patience must be used with him as he has the makings to be a brilliant pitcher for Houston when his time comes.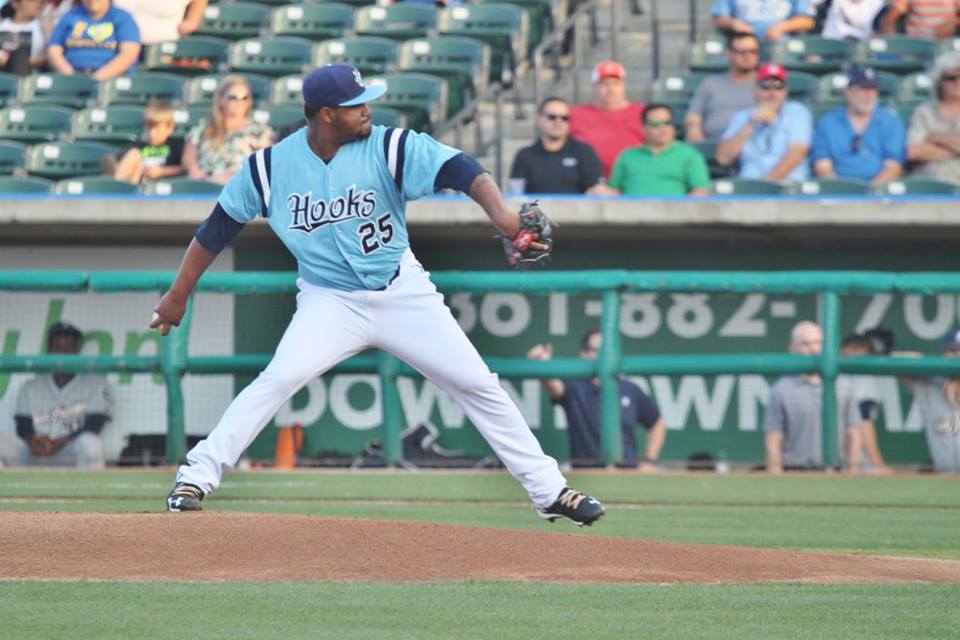 The Three-Headed Monster likely won't be around for much longer as Musgrove could be promoted to Triple-A literally at any moment. Though, there is a very good chance all three will be reunited in Houston at some time, anchoring the rotation or the bullpen as the same dominate trio they currently are. All three are very capable of being elite pitchers, and Luhnow has a great problem on his hands when all three are ready for baseball's highest level. The rotation looks to be in good hands for the next 5 years with a bonafide ace in reigning AL Cy Young Winner Dallas Keuchel leading the way, along with last year's 19 game winner Colin McHugh and sophomore stud Lance McCullers Jr, who is coming off a shoulder injury, as well as Chris Devenski who could also keep his hat in the ring after some very strong performances this year.
For now though, The Hooks own the best trio of starting pitchers in the Minor Leagues. As they continue to dominate Double-A hitters, they will continue to give nightmares to any team that has to cross their path until eventually the trio is broken up. Even then, who's to say Luhnow won't add another blue-chip starter to take over in Corpus Christi? After all, in the Astros' system, talent never seems to run dry. It's just replenished.
Be sure to subscribe to receive weekly updates on the Astros minor league system. Also be sure to follow on Twitter, @AstrosFuture, and like my Facebook page, facebook.com/AstrosFuture.
**Photo Credit: Tammy Tucker**