Corpus Christi Report: Teoscar Hernandez Hitting His Stride
Teoscar Hernandez is one of the highest potential outfielders in the Astros minor league system and he has started to turn it around recently for the Corpus Christi Hooks.
Hernandez was signed by the Astros as an international free agent in 2011 for just $20,000. Hernandez is a well built, 6'2 and 180 lbs. He possesses all the tools to become a center fielder at the big league level. Hernandez displays a great combination of power and speed, which he has shown throughout his minor league career.
In 2013 Hernandez got his first shot at being a full season minor league outfielder. He finished the season hitting .271 with 13 HR, 24 SB in 123 games. This came with 41 BB/135 SO though. The following season he was assigned to Lancaster where he really showed off his tools. In 96 games for Lancaster he hit .294 with 17 HR, 31 SB. He was promoted to AA Corpus but struggled a bit.
In 2015, Teoscar started the season in Corpus Christi and in a position to really fly up prospect lists. He struggled out of the gate hitting just .131 in April. He finished the first half of the season hitting .202 with just 6 HR. He turned it up a big in the second half hitting .234 with 11 HR but still a lot to be desired. Overall on the season he .219 with 17 HR, 33 SB.
This season Tesocar has made some adjustments to his swing and it appears to be helping him. Here is a shot of him from last season and then in spring training this season.

It may be hard to see but the main differences are his bat and hands. The bat is now pointing up versus being on his shoulder. He also has his hands elevated to the rear, very similar to Carlos Correa.
So far this season Hernandez is hitting .267 with 6 2B, 3 HR, 9 SB in 25 games. More importantly though, he has 15 BB/28 SO on the season. That is good for a 12.8% walk rate and 23.9% strikeout rate. Both are the best he has compiled in his career. His previous two AA seasons he had 36.7% and 24.5%. It appears Teoscar is being more selective as well with the walk rate. With his speed at the top of the lineup, being able to get on base is huge. Teoscar has the tools to become a potential 20 HR, 30 SB outfielder at the major league level.
Over his last 8 games he is hitting .333 (11-for-33) with 2 HR, 2 RBI, 4 BB, 5 SO, 3 SB for the Hooks. If he continues to cut down on the strikeouts and get on base he will continue to rise among Astros prospects. As stated earlier, he is one of the highest potential outfielders in the Astros system and at a time when two of the Astros three outfielders are free agents at season's end, a big season from him could mean time with the Astros soon.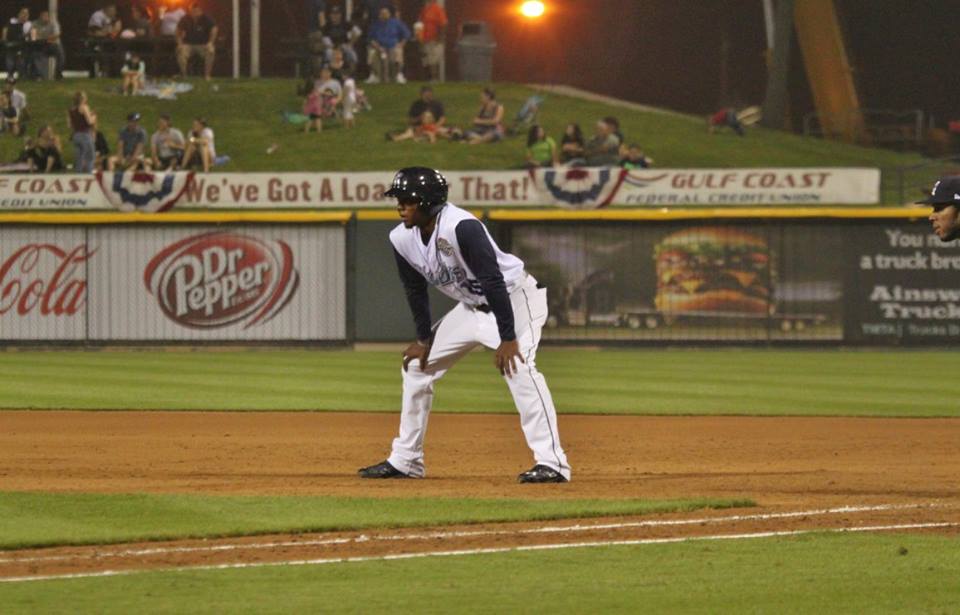 Be sure to subscribe to receive weekly updates on the Astros minor league system. Also be sure to follow on Twitter, @AstrosFuture, and like my Facebook page, facebook.com/AstrosFuture.
**Photo Credit: Tammy Tucker**