Astros Prospect Profile: Derek Fisher
For the next Astros prospect profile we will look at one of the Astros highest potential prospects in the system, Derek Fisher.
Derek was born and raised in Lebanon, Pennsylvania and attended Cedar Crest High School. As a senior at Cedar Crest he hit .484 with 11 HR and was named Gatorade Player of the Year for the state of Pennsylvania. He was rated as one of the better high school prospects going into the 2011 draft. Fisher was drafted by the Texas Rangers in the 6th round of the 2011 draft but decided not to sign and attend University of Virginia.
Derek was a starter at Virginia and was younger than most freshman at just 18 years old. That didn't stop him from having a great season though. Derek hit .288 with 7 HR, 50 RBI and was named a Freshman All-American by Louisville Slugger. His sophomore year he improved to a .298 with 7 HR but also improved his strikeout and walk rate. Fisher had a great showing in the Cape Cod league hitting .333 with 25 BB/19 SO in 36 games. Going into his junior year he looked like one of the top prospects for the 2014 MLB draft.
In early March of 2014, Fisher broke the hamate bone in his right wrist and was expected to miss 4-6 weeks. This obviously put a damper on his prospect status as he was only able to play in 25 games his junior year. In those games he hit only .260 with 3 HR.
As the 2014 MLB draft rolled around, Fisher still had a buzz about him. Being only 20 years old and still having untapped potential, he was still looked at as a potential first round pick even with the time he missed. Going to the draft scouts lauded his sweet left handed swing, and noted he had the package to become a good overall hitter, both average and power. Some had concerns of his defense in center field and though maybe he would end up in the corners.
The Houston Astros ended up selecting Derek Fisher with the 37th overall pick in the 2014 MLB draft. He signed with the Astros for $1.5 million. Fisher played the majority of his draft season with the Tri-City Valleycats where he was a full year younger than the league average. He finished the season hitting .303 with 2 HR, 17 SB in 41 games.
In 2015, the Astros started him out in full season ball with the Quad Cities River Bandits. In just 39 games there he hit .305 with 11 2B, 6 HR and 8 SB. This was enough to earn him a promotion to High-A Lancaster. It didn't take him long to get adjusted to the California League. In his first game he posted the following line: 4-for-6, 2B, 3 HR, 12 RBI.
He finished 2015 with a season line of .275 BA, 21 2B, 22 HR, 87 RBI, 31 SB and scouts started to see the player they thought he would be in college. This season was enough for him to get top 100 prospect consideration and definitely one to watch in 2016.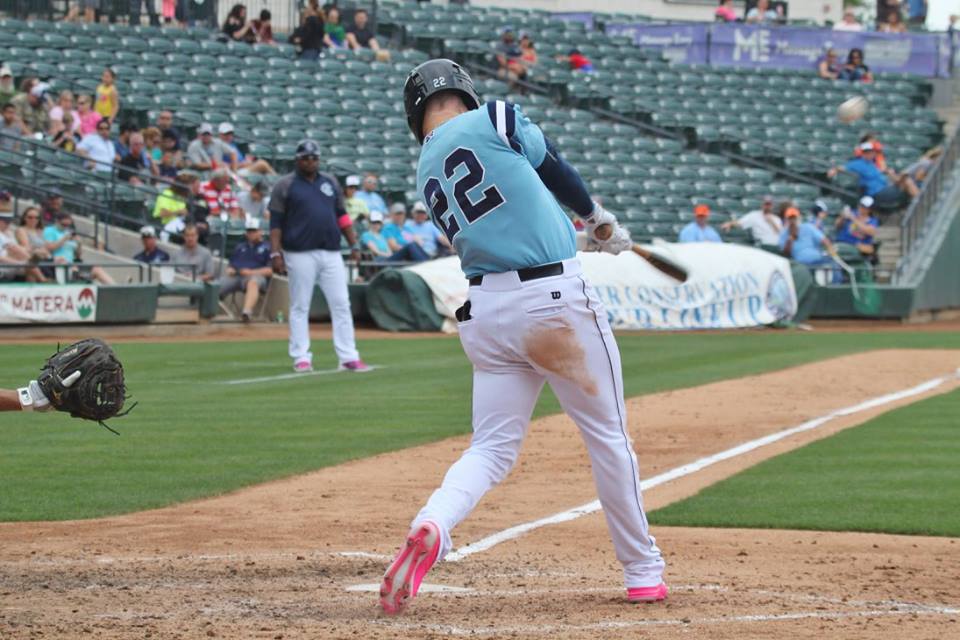 He started this season with AA Corpus Christi and has played 37 games so far this season. He is currently hitting .259 with 7 2B, 8 HR, 25 RBI, 4 SB, 23 BB/39 SO. Most importantly, he has improved on his walk and strikeout ratios while maintaining the same amount of power. His walk rate is 14.3% compared to 11.8% last season. His strikeout rate is 23.0% compared to 23.9% last season. He has also posted the highest ISO (isolated slugging) of his minor league career.
Fisher is a prospect who has a legit power/speed combination. He has played all three outfield positions this season with success. If everything clicks, Fisher could be a potential 30 HR/30 SB guy, maybe similar to a Bobby Abreu type player. His progression is crucial though with Gomez and Rasmus being free agents at the end of the season. If he finishes strong, there is a chance he could be a starting outfielder for the Houston Astros come 2017.
Be sure to subscribe to receive weekly updates on the Astros minor league system. Also be sure to follow on Twitter, @AstrosFuture, and like my Facebook page, facebook.com/AstrosFuture.
**Featured Image Photo Credit: Erick Sifuentes**
**In Text Photo Credit: Tammy Tucker**