What to do with Astros prospect Alex Bregman?
After an outstanding career as a two time all American shortstop for the LSU Tigers, Alex Bregman, was drafted second overall by the Houston Astros in last year's MLB draft. So far Bregman has been everything as advertised and looks to be a true franchise shortstop. What franchise could possibly think of this as a problem….well with the Houston Astros there is one slight problem, Carlos Javier Correa Jr.
In just his first season with the Houston Astros, Carlos Correa has established himself as a once in a generation talent at shortstop and at just 21 years old, one of the best players in baseball. So what to do with a 22 year old shortstop that is already at AA Corpus and should be pushing to finish the year with the Major League club?
TRADE BAIT
Everyone's first thought with an up and coming prospect who is blocked at the major league level is that he is likely to be dealt. The Astros have a very talented major league roster but all Major League teams will be plagued with injuries throughout the course of 162 games and any team that has World Series ambitions could use an upgrade during the season (For instance, the Kazmir trade last year or Beltran in 2004). Bregman could bring in a kings ransom in terms of trade value, he is a higher ranked prospect than any of the players dealt at last years trade deadline, but I feel the Astros may have a different plan for Bregman than to trade him to another team. After all, players of Bregmans caliber don't come along all that often. In my opinion, Bregman should not be traded as I believe he has a bright future ahead for the Astros.
POSITION CHANGE 
The second most obvious solution for the Bregman situation is to have him change to a position that isn't blocked for the foreseeable future….this solution too is easier said than done.
MOVE TO SECOND – Alex Bregman profiles as a solid to above average defensive shortstop with great hands and feel for the position but only average arm strength and range. The simple solution would mean a move to second base but Bregman is just as blocked at second as he is at short with All Star, batting champ and recent Gold Glove award winner in Jose Altuve manning the position for the foreseeable future.  Altuve, although in his 4th year with the club, is still only 25 and is locked under a very  team friendly. Altuve is currently playing on a 4 year deal worth 12.5 million dollars with team options for 2018 and 2019. Between Correa and Altuve, the Astros have their middle infield set for at least the next four years and probably far beyond that. Bregman will force the Astros hands much sooner than that and a spot will need to be created for him.
MOVE TO 3RD – The other option for Bregman to remain in the infield will be at 3rd base where the Astros do not currently have anyone blocking him past 2016. Third base is a much more realistic situation for Bregman where his bat would profile in terms of average and power but it is not an easy transition. While Bregmans glove and range could be above average at third, his arm would be tested and it is hard to gauge how his feel for third base would be as he has always been a shortstop. Also to note is the top third base prospects in the system, like Colin Moran, would be competing with Bregman at third for 2017.
MOVE TO OUTFIELD – While this option may seem a bit off the wall or out of left field (pun intended), I feel it may be the Astros best option to utilize Bregman's athleticism and bat without having to make big moves in the infield. The Astros major league outfield is very set for 2016 with three above average outfield defenders and bats, the big question is what happens in 2017 and beyond. Colby Rasmus was the first major league player to accept the qualifying offer, meaning he is on a one year contract worth 15.8 million for 2016 but is an unrestricted free agent going into next offseason. While Rasmus has expressed interest in retiring as an Astro down the road, there are no guarantees that he resigns with Houston. Carlos Gomez, acquired at last years trade deadline, is also currently in the last year of his contract and could command a very big contract depending on his play this year and could be out of the Astros price range if he duplicates his incredible 2013 where he finished with a WAR of 8.4. While the Astros still have one of the lowest payrolls in baseball they have yet to make a big commitment on a long term contract for a free agent or impending free agent,  which could mean potentially two open positions in the outfield. Bregman's bat would profile well in left field and his athleticism could lead to a smooth transition but his ability to play there would be a huge question mark. Bregman's arm strength would be the biggest concern for his ability to play left field, his case should be helped by Minute Maid Parks short porch and the fact that his biggest competitor for the job, Tucker, is liability in the field. A potential 2017 outfield could see Springer remain at his spot in rightfield, Marisnick or a possible resigning of either Gomez or Rasmus in centerfield with Bregman and Tucker battling for the left field job.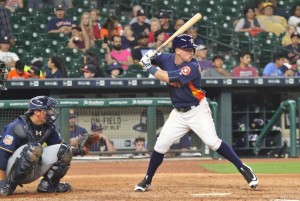 CORREA TO 3RD
The other option for a position change in the infield would not involve Bregman but would involve Correa. While Correa has shown that he is already an above average defensive shortstop, many in the industry worry that due to his size (6'4, 215lbs) he may soon outgrow the shortstop position making a third base move necessary. Correa would profile as an elite defender at third with an above average arm and superior range but the Astros would hate to make this move unless absolutely necessary. Correa has already proved his value defensively at the shortstop position and there has to be a worry that a switch defensively could hurt his overall growth. While Bregman does profile as a solid defensive shortstop it would be a big risk for a contending club to move a superstar from his natural position to another for a relative unknown entity.
TRADE CORREA
Just kidding……
The hope for Jeff Luhnow is to have Bregman's superb play force his hand and make a move to one of the aforementioned solutions an inevitability.  No matter what the Astros plan on doing with Bregman this is a very good problem to have. Hopefully it will work itself out where Bregman is starting somewhere for the Astros.
You can check out an interview with Alex Bregman here – Astros Future Interview: Alex Bregman
**Photo Credit: Tammy Tucker**