Astros Minor League Guide For 2018
Opening Day for the 2018 minor league season is finally here. With the Astros still having a deep and talented minor league system, I figured I would throw together a minor league guide which gives you quick access to the Astros top prospects by position, top 30 prospects, potential breakout prospects, and players to watch on each team.
Astros Minor League Roster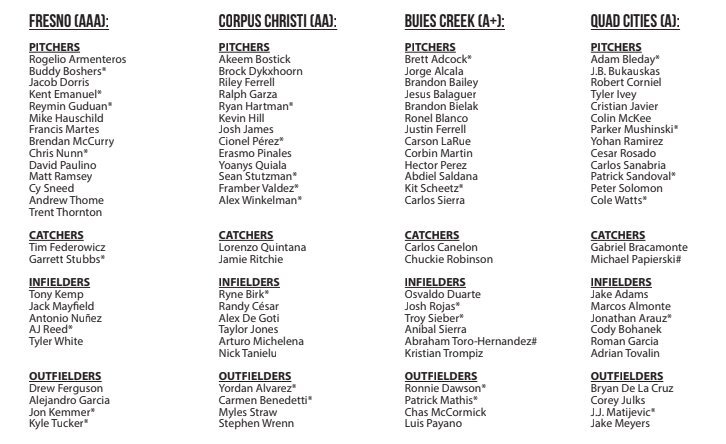 Astros Top 30 Prospects
Prospects Who Just Missed Top 30
Astros Top Prospects By Position
Catcher
First Base
Second Base
Third Base
Shortstop
Left Field
Center Field
Right Field
Starting Pitching
Relief Pitching
Astros Minor League Players To Watch
Astros Potential Breakout Prospects
Astros Announce Minor League Managers and Staff
Astros Twitter Minor League Predictions
Meet the Astros 2017 Draft Class
Hopefully this will have you covered on the minor league system and will be a reference for you during the 2018 season!
Be sure to subscribe to receive weekly updates on the Astros minor league system. Also be sure to follow on Twitter, @AstrosFuture, and like my Facebook page, facebook.com/AstrosFuture.
**Photo Credit: Kiel Maddox**