Should Kyle Tucker Be Untouchable?
So far this off-season the Astros have made a few moves to bolster the lineup, leading many to believe the Astros have the best lineup in the American League. The national writers believe the last thing the Astros need to do to become legitimate World Series contenders is to trade for an ace for the rotation.
There have been many rumors out there about the Astros interest in Chris Sale (traded), Jose Quintana, and Chris Archer. The Astros are looking to trade for one of these guys to bolster the rotation. But a great pitcher comes with a very hefty price tag, especially in today's market. It appears the White Sox and Rays want Bregman (not happening), and rightfully so, but would maybe settle for a package built around the Astros top prospects in Francis Martes and Kyle Tucker.
I believe Kyle Tucker should be untouchable in a trade and here is why.
First let's start with some background on Tucker.  The Astros selected Kyle with the #5 overall pick in the 2015 draft. The Astros signed Tucker shortly after for $4.1 million. Going into the draft, Tucker was seen as the one of the best high school hitters available.  Scouts lauded his pure swing and approach. He wasn't just bat either as all of his other tools graded out average or above.
Following the draft Tucker was assigned to the GCL Astros where he hit just .208 in 33 games but had a solid 9 BB/14 K ratio.  The Astros moved him up to Greeneville where he hit .286 with 1 HR, 20 RBI in 30 games. Tucker also stole 14 bases in those 30 games. Tucker entered the 2016 season rated as the #61 prospect by Baseball America and he didn't disappoint.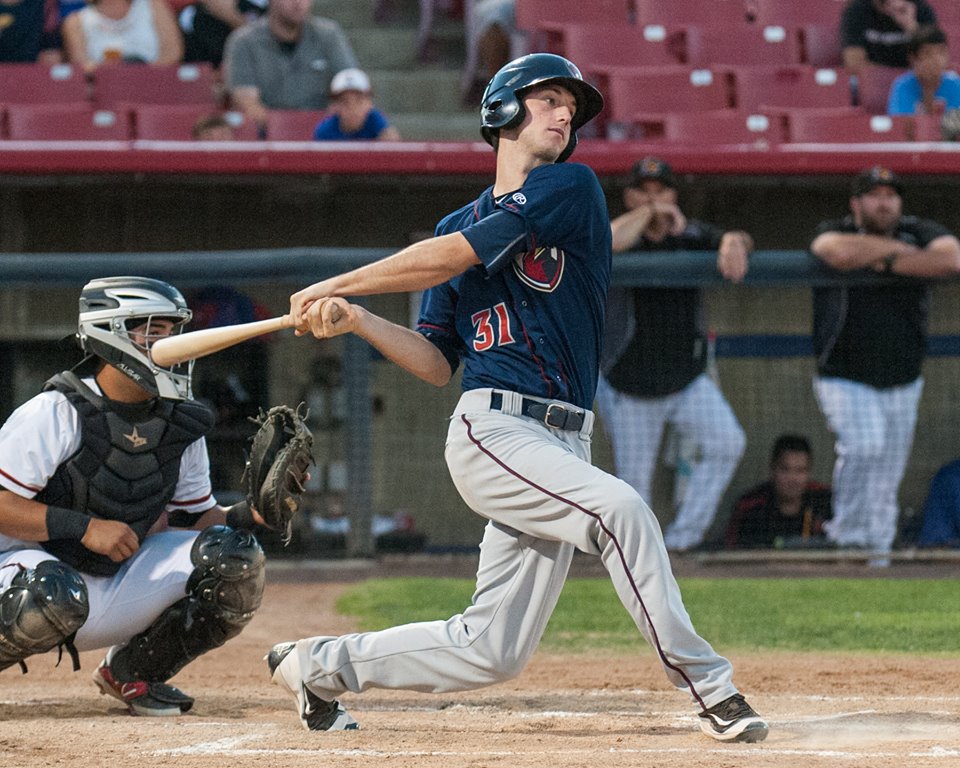 Tucker started the season in full season baseball with Quad Cities.  He started a bit slow hitting .263 in April but followed that with a .316 BA in May which included 20 RBI and 16 SB in 26 games. He finished hitting .276 with 6 HR, 56 RBI, 31 SB in 101 games for Quad Cities. He was promoted to Lancaster where he dominated late in the season and into the playoffs. With Lancaster he hit .339 with 3 HR, 13 RBI, 10 BB/6 SO in 16 games. His final season line looked like this:
117 G, .285 BA/.360 OBP/.438 SLG, 25 2B, 7 3B, 9 HR, 69 RBI, 32 SB, 50 BB/81 K
Many expected Tucker to move to a corner outfield spot but in 2016 he played the majority of his games at center field (64 of the 105 games). Tucker also showed off his speed on the base paths stealing 32 bases. So far, in his brief minor league career, Tucker has been as advertised. He is hitting for average, shown some power, stealing bases, and handling center field. Tucker should develop more power, similar to Correa, when he fills in his 6'4″ frame.
Not very often are high school draftees seen as pure hitters but Tucker was one of them. While finding an ace for the rotation would help the Astros, trading off their top position prospect and maybe their best hitter in the minor leagues could cause issues down the road. The Astros just signed Reddick to a 4 year deal and Springer has 3 years left of control. When Tucker is ready, presumably two seasons, the Astros could be needing help at an outfield spot.
I understand the "win now" mentality and making a move to help the big league club, but I also think sustained success is very important and Tucker could be a huge key to making that happen. At this point in the Astros march to greatness, they might be better poised holding on to their top prospects, especially one who has a very good chance to be a special hitter.
Be sure to subscribe to receive weekly updates on the Astros minor league system. Also be sure to follow on Twitter, @AstrosFuture, and like my Facebook page, facebook.com/AstrosFuture.
**Photo Credit: Ross Way Photography**