Antonio Nunez Surprising Everyone
Corpus Christi, TX– This has been a very magical season for Antonio Nunez. To understand what I mean you have to go back to April and the start of the Quad Cities River Bandits season where it all began. April was a rough month for Nunez but then again, it was a very rough month for Quad Cities in general. As the month wound down though things turned around and Antonio had made big progress.
After turning things around, he was hitting .198 with 18 runs scored and 9 stolen bases in 29 games. Seeing him progress that way had shown that he was ready and able to get the chance at the next level. His time was short in the River Bandits clubhouse but no one will forget the speedster who wore number 10.
At Lancaster Nunez continued to develop. I asked what he owes his success to "Preparation and working with the trainers" he said. It showed on the field as his numbers climbed. "Working on your body is important. At Greenville going into the last month of the season my arms were sore and shoulders were hanging." Not so much anymore. He has developed physically and mentally for being in the Jet Hawks lineup.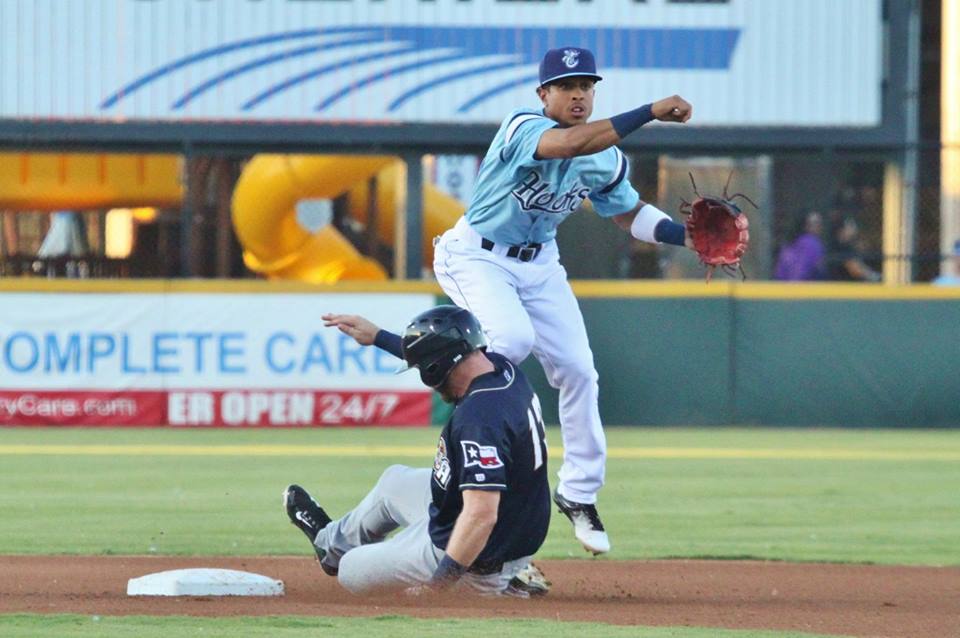 Nunez played only 54 games for the Jet Hawks hitting .273 with 40 runs scored, 7 doubles, 20 RBIs and 59 total bases. Those numbers lead to his recent call up to Double-A Corpus Christi. It's not surprising that he got called up to Double-A. He is something special and I'm sure by next season we will see him in a Fresno uniform. I asked if there were similarities between all of the locker rooms he had been in. Nunez said "There are a lot of similarites. In this organization you have guys that will help you and push you. You feel comfortable and I'm blessed to play in such a great organization."
In just 8 games with the Hooks, Nunez has had 28 at bats. He is hitting .321 with 3 runs scored, 3 RBI and 9 total bases. Good numbers to start off your time in Double-A. Make no mistake about it, this 23 year old is definitely making noise in the Astros farm system and will be wearing the Orange and Navy Blue before you know it. "This last year has been a learning experience for me. The next few year will be exciting" said Antonio. I can't wait to see where this young man ends up next.
Be sure to subscribe to receive weekly updates on the Astros minor league system. Also be sure to follow on Twitter, @AstrosFuture, and like my Facebook page, facebook.com/AstrosFuture.
**Photo Credit: Tammy Tucker**