Ryan Deemes Proving To Be An Elite Pitcher
Davenport, IA– After only a month of baseball Ryan Deemes was cruising along and was by far the best pitcher the River Bandits had. With a smooth delivery and great fastball Deemes was showing he should be moved up. There was some concern that his ERA of 0.87 was a fluke and with the way the ball carries in California his ERA would go up. I had a chance to talk with him briefly on April 6th at the Quad Cities River Bandits Media Day and he was a joy to talk to. We talked about how cold it was and how he came from heat and humidity down in Louisiana. He also said he missed the sweet tea back home. No tea is better than Louisiana sweet tea.
I saw him pitch once and he was fantastic. He was on his game and forced batters into ground outs or strike outs. It's rare to see any batter pop out when Deemes is on the mound. I knew he wouldn't be around long so I worked hard to keep track of his stats and how many games he played in. "I want to stay ahead and play solid." he said when asked what his goal was for the season. It was a short stay in Quad Cities but he will never be forgotten here.
After being moved up he continued to dominate on the mound. His first appearance as a Jet Hawk was against San Jose in which he went 0.1 innings where he didn't give up a hit. His only win thus far came against Stockton in which Ryan went three innings gave up two hit, one run and struck out three. That was the only game his ERA for a single game went above 1.00. In his first nine appearances with Lancaster he has a 2-0 record with a 0.75 ERA. That is proof of how great this young man really is. He had one rough outing, but knowing Deemes, he will bounce back.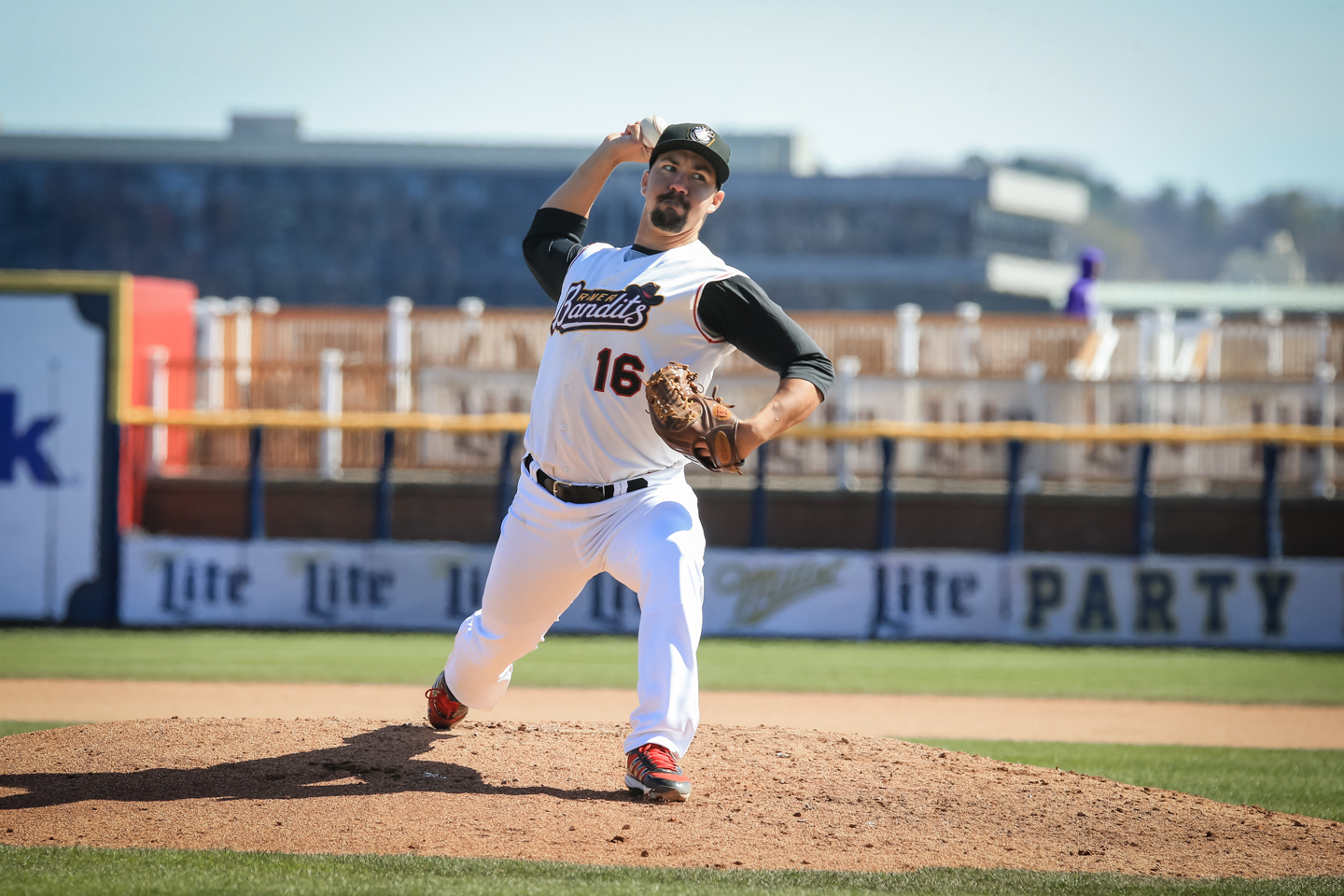 I had the pleasure of chatting with Ryan recently and he was just a cool as he was on Media Day in April. I first asked if he was excited to be moved up "I was excited to be moved up. Especially that early." said Ryan. He mentioned being surprised at being moved up that early. Moving on I asked what he attributed his ERA to. Was it work ethic, mind set or the coaches? "It's all three I think. I work hard at practices and in the bullpen. The coaches are there to help you improve and grow. Especially at this level." he said "I go out every game with a no fear attitude." Ryan added. When you first see him you would think he is intense. Truth be told he is intense on the mound and when he is in the bullpen but after the game he is approachable and likable.
I then asked if he prepared differently in California than he did in Iowa? "I like the heat. I come from an area that is hot in Louisiana but it's a humid heat down there as opposed to a dry heat here." said Ryan. "It's different from the 30's and 40's in the Quad Cities but not to bad." he said
My final question was "Does being away from home take it's toll on you?" he responded "Yeah it does probably for everyone." which I'm sure it does. He then added "I'm living the dream and want to continue to do well. We have to make sacrifices and everyone has been behind me. I know if I need them they a just a phone call away." That shows that he will never forget who was behind him and helped him get to where he is. A very likable young man with a pitch arsenal that will leave you dizzy.
Be sure to subscribe to receive weekly updates on the Astros minor league system. Also be sure to follow on Twitter, @AstrosFuture, and like my Facebook page, facebook.com/AstrosFuture.
**Photo Credit: Richard Guill**