Houston Astros Prospect Profile: Chase McDonald
We have seen time and time again that building a deep farm system and putting together a talented major league roster doesn't always come from top picks in the draft or the top prospects. Sometimes the mid to late round guys make huge impacts. Chase McDonald fits into this category.
Chase McDonald is a big 1B/DH listed at 6'4, 265 lbs (yes, these numbers are accurate) who has one might expect, has a bunch of power in his swing. McDonald was drafted by the Astros in the 12th round of the 2013 MLB draft out of East Carolina University. The right handed slugger was a three year starter for the Pirates of East Carolina. He was Conference All-Freshman and Offensive Player of the Year in the Coastal Plains League.
College Stats:
2011 – 55 G, .314/.395/.436, 11 2B, 4 HR, 31 RBI
2012 – 46 G, .283/.335/.395, 5 2B, 4 HR, 29 RBI
2013 – 55 G, .299/.398/.519, 8 2B, 11 HR, 46 RBI
One thing that stood out about his college stats was the lack of strikeouts for a big guy with power. He only struck out 82 times in 156 college games. The draft reports on him were a big guy with power who might hit for average and won't strikeout a ton but limited defensively.
As stated above, he was drafted and signed with the Astros in 2013. He was assigned to Greeneville the year of the draft and hit .245 with 6 HR. In 2014 he started the season with Quad Cities and 102 of his 103 games in Low-A. He finished the year hitting .278 with 16 HR, 67 RBI, 44 BB/116 SO, 10.7% BB, 28.1% SO.
In 2015, McDonald played the full season in the great offensive environment of Lancaster. He ended up hitting .279 with 30 2B, 30 HR, 80 RBI while he walk rate stayed about the same (10.1%) and his SO rate improved (26.4%) from 2014. So far this season McDonald is hitting .231 with 8 HR, 21 RBI in 29 games. Once again, the key this season has been his improvement in walk rate (14.2% compared to 10.1% last season) and improvement in strikeout rate (24.6% compared to 26.4% last season).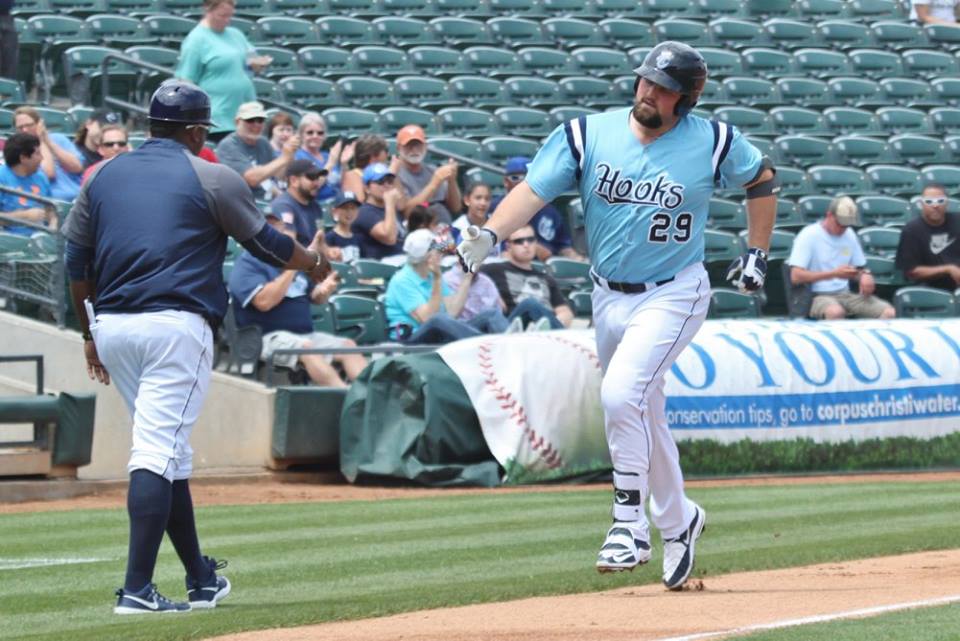 I had the opportunity to watch McDonald a few games and he is pretty agile for a big guy. He made a couple of diving stops at first and was still able to get up and tag the bag without help from the pitcher. He got a few grounders and played this just fine. If his power continues to develop and the walk/strikeout rate continue to improve he will gain more attention as a legit 1B/DH option in the near future.
Be sure to subscribe to receive weekly updates on the Astros minor league system. Also be sure to follow on Twitter, @AstrosFuture, and like my Facebook page, facebook.com/AstrosFuture.
**Photo Credit: Tammy Tucker**