Astros Future Interview: Cy Sneed
The Houston Astros have done a great job developing pitching over the last few years. Dallas Keuchel, Lance McCullers, Chris Devenski, Joseph Musgrove just to name a few. This off-season they acquired a new starting pitcher and he is Cy Sneed.
Sneed was acquired by the Astros on November 19, 2015 when the Astros sent Jonathan Villar to Milwaukee. Sneed was drafted in the 3rd round of the 2014 MLB Draft out of Dallas Baptist University. In 2015 Sneed put together a great season between A and A+ combining for a 2.58 ERA in 139.1 innings with 28 BB/122 K.
So far this season Sneed has had a successful transition to Double-A posting a 3.41 ERA with 9 BB/40 K in 34.1 innings. Cy was able to take some time to answers some questions. Let's get to the interview.
Astros Future (AF): Can you describe the feeling of being draft by the Brewers?
Cy Sneed (CS): "Getting drafted was great! I had been drafted out of high school but knew that I was going to go to college.  It was a little bittersweet to sign after my junior year of college because I loved playing at Dallas Baptist so much, but I was very excited to get my professional career started.  It was an awesome day."
AF: So this past off-season you were traded to the Astros. Can you describe the feeling of being traded to another organization?
CS: "That was a crazy day, I was super surprised to find out I had been traded and there was some shock for a while from just instantly becoming a part of a new organization.  I had only heard good things about the Astros so I was excited."
AF: How did you hear about the news of you being traded to the Astros?
CS: "I was sitting on my couch doing homework (I have one semester left to graduate) and got a phone call out of the blue from the Brewers front office informing me that I had been traded.  I didn't get any of the details of the trade on the phone and found out all of that later via twitter so that was kind of crazy but very exciting."
AF: Did you have any knowledge of the Astros organization prior to the trade?
CS: "Two of my former DBU teammates (Ronnie Mitchell and Austin Elkins) had played for the Astros, so I knew a little bit about the organization and knew that they had a very strong minor league system.  I had heard they were great at developing pitching so I was very pleased to be in an organization with that reputation."
AF: Neither Milwaukee nor Houston are close to Idaho but at least Houston is somewhat close to Dallas, where you went to college. Did this make the transition easier?
CS: "It definitely made the transition easier.  My wife and I have family and friends around the Texas League so it has been nice to be able to see them at different points so far this season."
AF: What is the most memorable moment of your professional baseball career so far?
CS: "I would have to say my last outing last year was probably the most memorable for me so far.  A lot of things I had been working on and developing really came together that day.  It was a great way to finish out my first full season with lots of confidence heading into the off season."
NOTE: In that final game of the season Sneed went 7 IP, 4 H, 0 R, 3 BB, 10 K
AF: Can you describe your pitching style? Are there any pitchers you try to model yourself after?
CS: "I would say my pitching style is pretty aggressive, I try to attack the strike zone with all my pitches from the start and force the hitters to swing the bat.  I used to try to model myself after certain guys but what I have found is that some things that work for other guys don't necessarily work for me because I throw differently than most so I have had to developed a little bit of my own style that allows me to stay with who I am and not try to be pitching like somebody else."
AF: Can you describe your pitching repertoire?
CS: "I have a 4 seam fastball that I will turn into a cutter on occasion.  Along with that I throw a curveball, a changeup and a splitter.  The splitter is really half split finger and half forkball but it works for me."
AF: So far this season you have posted the best strikeout rate of your career. Is there anything in particular you can point at for this success?
CS: "I think that it goes back to some of the things I have worked on for a long time that have started to show themselves on a more consistent basis.  I think that throwing lots of strikes and getting hitters in swing mode helps me to get swings out of the zone."
AF: If you weren't playing baseball what would you be doing?
CS: "I'd probably be back in Idaho putting my business management degree to work.  I like to think that I would be doing something other than chopping wood and building fence, but I oddly enjoy manual labor so you never know."
AF: Does the name Cy have anything to do with the pitcher Cy Young?
CS: "Yes it does, my parents are both big baseball fans so they named me after Cy Young."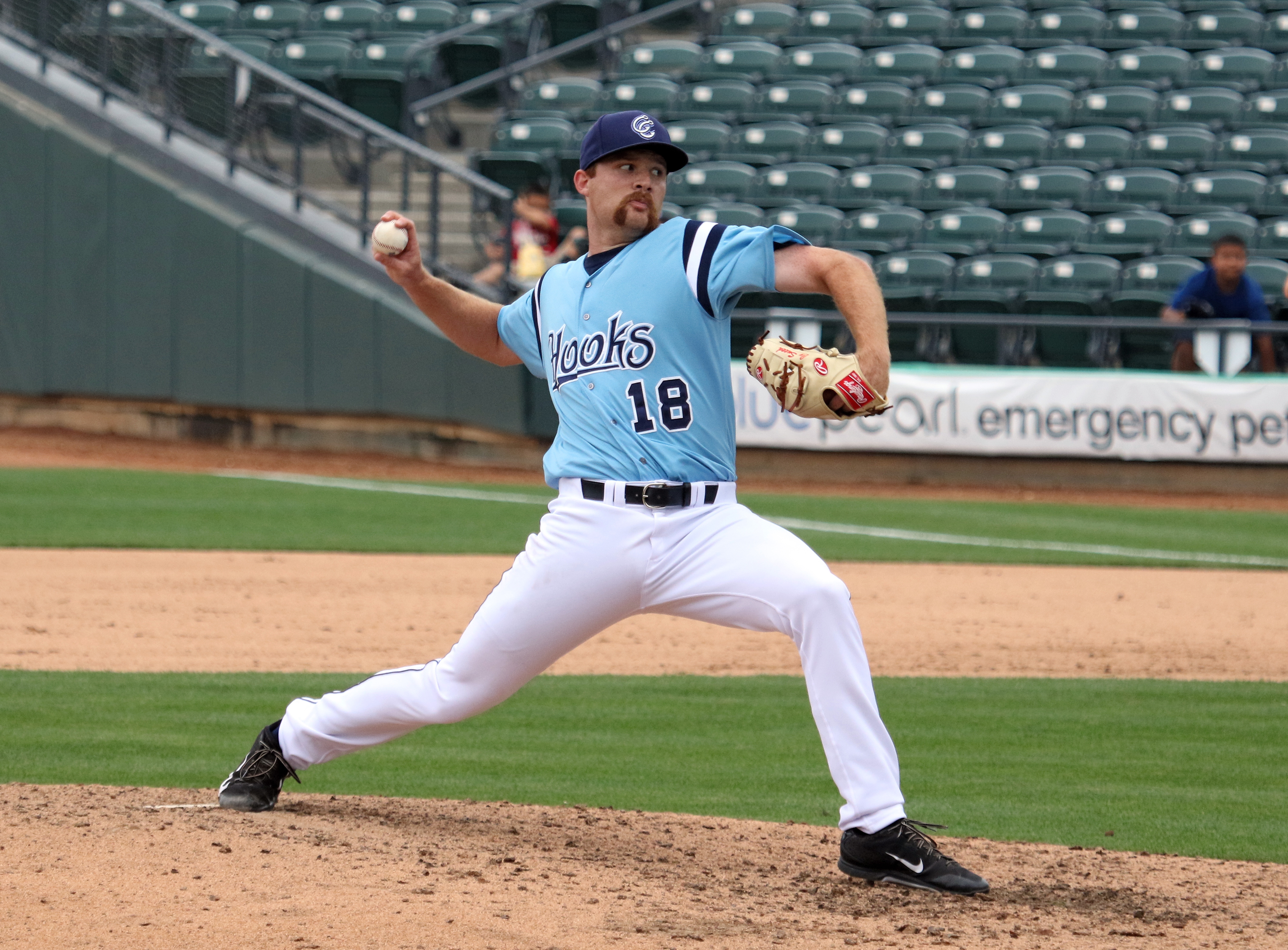 AF: Was the mustache something you just thought to do one day or do you try to model if after someone?
CS: "It was something I started growing my freshman year of college because we all thought we should all have mustaches. I was the only guy that ended up sticking with it.  It has kind of become something people know me by so it's probably here to stay.  I haven't seen my upper lip once in the past 5 years, I'm not even sure if it's still there."
AF: What is one thing Astros fans should know about you? 
CS: "I have a massive sweet tooth.  I try to keep it under control but sometimes I give in.  I like cake, cheesecake, icecream, cookies, pie…..the list continues, I don't discriminate.  My wife generally makes me eat healthy though, so I don't go off the deep end with the sweets too often."
AF: Thanks again for the time. Good luck the rest of the season!
Be sure to subscribe to receive weekly updates on the Astros minor league system. Also be sure to follow on Twitter, @AstrosFuture, and like my Facebook page, facebook.com/AstrosFuture.
**Photo Credit: Erick Sifuentes**